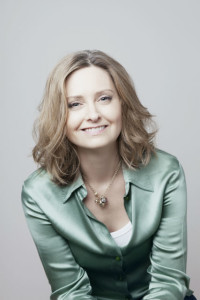 Female Entrepreneur of the Week 30th April 2012
"I was lucky enough to have twin babies and when they were one year old I wanted spend time with them rather than be working all hours…Founding Charlotte & Co. in 2007 was my way of working and being happy." Read Charlotte Semler's story below.
---
What does your business do?
Charlotte & Co. is a lifestyle label supplying gorgeous fashion, nightwear, bedding and gifts to yummy mummies everywhere.
Our collection includes cashmere jumpers, soft jersey layering tops and dresses, lots of gorgeous cotton nightwear – from vintage cotton nighties to cosy brushed cotton flannel pyjamas – and luxuries like cashmere dressing gowns and socks. We also sell high quality lingerie like silk knickers and luxe thermals in our famous silk/wool blend.
We sell purely via mailorder and internet. www.charlotteandco.co.uk Customers can order via phone and catalogue by calling 0844 499 3133
What was your main motivation for starting your business? 
Charlotte & Co. is my second business. I co-founded luxury lingerie label Myla back in 2001. That business grew incredibly rapidly to become an international brand in just 5 years. However, by the time private equity investors had got involved both my business partner and I felt that it was no longer the small and dynamic business which we loved.
I was also lucky enough to have twin babies and when they were one year old I wanted spend time with them rather than be working all hours. So I left Myla in 2006. Six months into being a full time mum and moving to the country I realised that I missed working and that I wanted to try building a different kind of business working in a way that respected both my need to work and my need to spend time with my twins.
Founding Charlotte & Co. in 2007 was my way of working and being happy.
What's a day in the life of you like? 
Every day is different but I generally work from 9-3pm (school run time!) on Mondays and Tuesdays.
Wednesdays I usually keep the twins off school and do a bit of home schooling in the morning and a lot of mucking about with them in the afternoon.
Thursdays I'm back to work, I'm usually in London for meetings etc and have all day for it as my husband does the school run.
Fridays are my "me" days. About a year ago I found myself getting very stressed about workand family pressures. It made me realise that having a day a week which is not about work and not about looking after the family makes me happier. So I try to stick to that.
I generally work for a an hour or two every evening and usually for half a day over the weekend when the twins are riding with my mum or they are off at parties and playdates.
What have been your biggest challenges so far? 
My biggest challenge has been to balance work and family and learn to run a business that makes me happy.
It is easy to get sucked into an entrepreneurial vortex where the only thing that matters is the business and the the business is actually making you unhappy.
How did you overcome these challenges? 
I have had to learn to:
Be CEO of my whole life not just my business.
Delegate to the point of idleness
Say "No"
Build a focussed business
What advice would you give to other business owners? 
Think really hard about what makes you happy in life.
And structure your business and your work to accomodate and leverage that.
If you're happy then your business can thrive and life will be good.
If your business thrives but you're unhappy your life will be miserable.
How do you keep motivated during difficult times? 
I have a great little network of other women entrepreneurs who are running businesses that are at a similar stage to Charlotte & Co. They are a great source of comfort and motivation when everything seems really rubbish.
What's your favourite quote?
"Focus"
Johnny Boden
Who inspires you? 
Anyone and everyone who runs their own business, however big or small, glamorous or grubby. It is a tough thing to do and only other entrepreneurs really understand that.
I find something to learn from every entrepreneur I meet.
Do you have a business philosophy?
Yes: Your business exists only to make you money and make you happy. If it fails to do one or both then you need to have a radical re-think.
---
Website: www.charlotteandco.co.uk
Twitter: @charlotteandco
Facebook: www.facebook.com/CharlotteAndCoUK