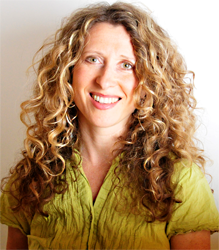 "I got very passionate about nutrition when my son developed severe eczema and allergies after a few months old (he is now 16). I went to see a nutritional therapist for him and myself too. I cut out wheat, dairy, sugar, saturated fat, anything artificial, chemicals, caffeine, processed food etc. I totally changed my diet and lifestyle.
I feel massively different – better health, more energy, look better etc. It encouraged me to be a nutritional therapist and specialise in coaching people to better health."
Read Julie Silver's inspiring story below.
---
What does your business do?
I run healthy eating workshops, 1-2-1 nutrition coaching & natural health consultations, healthy cooking coaching, corporate wellness programmes, talks, seminars etc. with individuals and groups to inspire and empower them to live a healthier, more balanced life.
My business, Optimum Health Consultancy, has been helping many individuals and companies such as IKEA, Colgate Palmolive, Shell UK, PZ Cussons, Manchester Airport, Guardian Media, Keoghs Solicitors etc. reach their maximum potential through living a healthier, calmer and more balanced life.
I write regularly for several publications and have appeared on local radio and TV.
I have a healthy cooking programme – Cooking for Health, Happiness & Spiritual Growth on MBS Lifestyles TV which went out on SKY TV. It is available at the moment to watch on www.mbslifestyles.com There will be a DVD available too.
What has been your biggest challenge so far?
Working on my own which was quite isolating. Being responsible for everything in my business and getting myself and my work known.
How did you overcome this challenge?
I went to a lot of networking events. Got help from start up companies and people in the same situation. I send a monthly newsletter, on social networks and still attend some networking events.
What advice would you give to other  business owners?
Believe in what you do and get as much help as you can. Network and find out how others have been helped and get advice from them. Be passionate about what you do and let others see this about what you are doing.
What's your favourite quote?
'Be the change you wish to see in the world' Ghandi
Who inspires you?
Everyone who is following their dream…
Connect with Julie on Facebook