Who we are and what we do
Sandler Training is a world leader in innovative sales and sales management training. For more than 40 years, Sandler Training has taught its distinctive, non-traditional selling system and highly effective sales training methodology, which has helped salespeople and sales managers take charge of the process.
Our training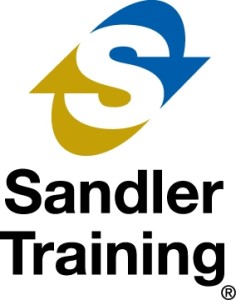 is designed to create lasting "performance improvement" rather than the motivational "quick fix" typical of many seminar-based training programmes. To help you accomplish your goals, Sandler Training provides "reinforcement training," a system that combines quality materials along with access to on-going training workshops and individual coaching sessions. Through our local training centres, we provide continuing face-to-face support and reinforcement of the world's most successful selling system.
At Sandler Training we understand that business success is directly related to the effectiveness of upper- and mid-level managers within an organisation. Sandler Training's management solutions help managers at all levels become more effective communicators, better mentors and coaches, and competent managers of change.
Business owners and Directors tend to seek my help because they feel uncomfortable with being perceived as sales people. They see traditional selling strategies as exploitative or even manipulative and they are frustrated by an inability to differentiate themselves from their competition (other than on price) and frequently undercharge for work done or get beaten down on price by the customer. Many feel that due to the current financial crisis that they must often do a great deal of unpaid consulting in a bid to secure or retain clients.
A great number of business owners and Directors find great difficulty in securing sufficient new revenue because their networking or other prospecting activities are ineffective.
My part in the Sandler Story
After a career spanning over 20 years in a retail Business Management position I felt that I needed a change. As we all know, retail is a 24/7 business now with most staff (and especially the Business Manager!) working very long and unsociable hours. I was finding myself working weekends, evenings and even overnight shifts as well as commuting for 90 minutes each day.
Now don't get me wrong…I loved this job, I loved the people I worked with, the challenges that each day brought, the variety of changing trade patterns and the skills that I acquired along the way; however I have a husband who also works in retail and two sons and we were all like the proverbial ships that passed in the night. Something had to give.
In 2010 I decided that I needed to look at an alternative career, one that would be more conducive to a family life and where I didn't need to work weekends and farm the kids out to the Grandparent's. I initially thought about starting my own business but wasn't too sure what I wanted to do or how to go about doing it. I knew that I didn't want to work for an employer as I quite fancied making money for myself but I did like the back-up and support that an organisation gives. It then occurred to me to look into buying a franchise…would this be the best of both worlds? I looked at the aspects of my current role that I enjoyed, and felt that I was good at, and sought out a franchise that was based on these skills.
Challenges so far
As a complete novice to owning a business (I had managed a business for years previously but I'd always had support departments to rely on for help with accounts, marketing, legal etc.) I now have to wear more hats than I thought possible, I do my own marketing, accounts, IT etc. so this has been a steep learning curve. A few months ago I didn't know what SEO was or how relevant it was to me but I'm now quite the expert!
The financial worry of starting your own business can also be quite a strain; I have gone from a steady, substantial income to a feast or famine scenario (with not much feasting!) however the benefits or being able to spend more time at home and with the family far outweigh this.
As a trainer I have to be a subject matter expert and that means knowing the Sandler material inside out so I spend a lot of my free time reading the material, watching Sandler training videos and even listening to audio CDs in the car.
I suppose the biggest challenge so far has been getting my name, and the Sandler name known. There are 28 franchisees in the UK, mostly men and nearly all south of Birmingham so I have my work cut out for me here! However the material is fantastic and once people experience it they realise just how powerful it is. I suppose it's a cliché but I really can help clients to their businesses around and become much more profitable.
"Eat your sprouts first"
Is my mantra that I live by; I hate cold calling with a passion so I make myself do my dials first thing each day. It's like when you are served a beautiful roast dinner, eat the sprouts first and save the nice Yorkshire puddings, roasties and meat until the end!
My advice
• I advise any fellow business owners to make a business plan and update it every six months or more often if you feel it's necessary. This enables you to set long and short term goals for your business and yourself.
• Separate your "I" from your "R". One of the topics I teach empowers you to distinguish between your Identity and your Role. Far too often I see people whose businesses aren't doing too well who become stressed or anxious, this doesn't help anybody! You may be having difficulties professionally but you're still a great person inside.
• Be financially stable before starting your own business. However much capital you think you'll need, you'll need more.
• Remember why you started on this journey. I had an offer of sharing an office with a colleague from the Bury area, this would have meant that we could share ideas and split costs but would have meant commuting each day again. I was tempted to take up his offer initially but after thinking about the reasons why I took this career path, I sadly had to decline his offer.
• Don't be afraid to take the plunge. Yes it's a big scary step to take, but if you don't do it will you always be wondering "What if…?" I read the book "Who Moved My Cheese?" by Spencer Johnson a few years ago, it's about not being afraid of change, and this stuck in my mind.
If you would like to meet up to find out more please do contact me, and thanks for reading.
[divider /]
Get in touch with Helen…
Helen Jones
Sandler Training
Silkpoint
Hulley Road
Macclesfield
SK10 2BB
www.southmanchester.sandler.com
Tel. 01625 435617
Mob. 07545 882189
LinkedIn http://uk.linkedin.com/in/helenjonessandler
Twitter @sandlersouthmcr
Facebook http://www.facebook.com/pages/Manchester-United-Kingdom/Sandler-Training-South-Manchester/167017536683738