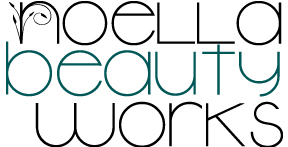 Jackie Pfleuger is a full time student and successful entrepreneur! She manages studying with a part-time job and running her business, Noella Beauty Works. Read her incredible story below.
---
What does your business do?
Noella Beauty Works is my line of handmade cosmetics. All my cosmetics are completely natural, high quality and low priced. I make loose mineral eyeshadows, blush, foundations, concealers, finishing veils and lip products. I sell my products online on Etsy. My products can be found at www.noellabeautyworks.etsy.com and I also sell my products in my mother's salon and in a boutique in Ohio. I hope to be selling in more boutiques soon. Noella Beauty Works is primarily an online business and I take advantage of the many social networking tools available on the internet. My Facebook fan page ( www.facebook.com/noellabeautyworks ) keeps my customers updated and helps introduce potential customers to my work. I also blog about my products and keep my customers updated at www.noellabeautyworks.blogspot.com. I tweet about new products and sales with my twitter www.twitter.com/noellabeauty.
What made you decided to start your own business?
I always held a part time job but on the side I was always finding ways to make money. I found myself being more interested in the business aspect of it, rather than the money itself. My mom had a foyer in her salon and at age 9 I dreamed of making it into a miniature shop of my own with all my homemade goods (which hadn't actually been made yet- I dreamed those too). I played with everything from sewing to knitting to clay working and jewellery making. I then discovered that you can make your own cosmetics, which I thought was very neat because I was always very conscious about what was on my face because almost everything made me break out. I did it for myself at first but decided to try to sell it in my own basket in my Mother's salon. The great response was motivating and encouraging and made me want to expand. This is how Noella Beauty Works began.
What have been your biggest challenges so far?
My biggest challenge has been time. I'm a full time student, I work at a coffee shop (less and less now due to my business), run every aspect of Noella Beauty Works, maintain a household and do my best to maintain a social life. As stated, I truly love what I do, but occasionally I feel stressed that I don't have enough time for everything. I want to do good in school but I also want to make makeup all day. I have to be very organized with my planning in order to be able to get everything done and I need to prioritize. It can get lonely in my office all by myself all day, everyday so I also do my best to spend time with my friends and family when I can.
How did you overcome these challenges?
When my online store became unexpectedly busy, I was very overwhelmed. Very happy and excited, but life got very chaotic. My business became very successful in a short period of time and I wasn't prepared. I remember one time I ran out of labels and jars all in one night and hadn't even ordered new ones yet. It was an overwhelming experience but I learned from all those things. Over time, I have learned how to prioritize my tasks and plan my day ahead of time so things didn't get to that point. Since I've been better at this, the job has been much less stressful.
What advice would you give to other business owners?
Have a plan from day one. Be prepared and prioritize your time.
Do what you love and find your niche. Find inspiration but be original in your work.
Running your own business can be hard work sometimes, but very worth it. You'll grow and learn so much! Having a unique product and excellent customer service will be bring you success. You never know what you can become so dream big!
What's your favourite quote?
"You better make it count, because you can't get it back."
Who inspires you?
A tie between my Mom and Dad.
My Mom is self employed, herself. She owns a hair salon in my hometown and has always been a very hard worker. She is the reason for my passion for cosmetics and beauty and also has been so helpful in keeping my business organized. I couldn't do it without her help.
My dad inspires me as he has always been the "pusher" when it comes to following my dreams. Since Noella Beauty Works began, he has been such a proud father and has pushed me to get my name out there. His encouragement is so inspiring and so motivating. He's always there to get me back on my feet on those 'off' days.