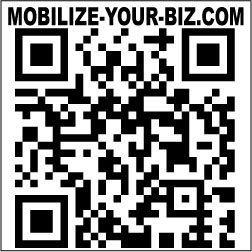 From an unchallenging job to building a mobile marketing business – read Meg Montgomery's story below.
---
What does your business do?
My primary business is helping small businesses in America tap into the extraordinary new technology of mobile marketing. Now, this is not new technology to the rest of the world, however it has been locked up by the big corporations here, and just in 2011 has become affordable for smaller businesses. I recognize how incredibly powerful and lucrative this is going to be for everyone involved, so I jumped in head first!
I help businesses develop affordable and effective mobile marketing plans, including mobile optimized websites, text message marketing, QR codes, mobile traffic campaigns, location based marketing, digital business cards and more.
I've been in marketing since 1994, when I left Wall Street to pursue the creative side of computers. I landed at the Guggenheim Museum, where I learned the importance of a strong marketing foundation. I later worked in the marketing departments of huge corporations including Prudential and Weil, Gotshal and Manges LLC. But, around 2003 I realized that the internet was the future, so I studied Michael Masterson's Copywriting course and also studied several other amazing internet marketers. I began building websites, incorporating SEO, and learned the hard way what works and what doesn't work.
I love working with small business owners, and teaching them this amazing new avenue – and seeing their eyes light up at the possibilities! It's a whole new era, and it's very exciting to be riding the first wave.
My website is http://mobilize-your-biz.com, http://mobilize-your-biz.mobi, and you can find me at http://facebook.com/mobilizeyourbiz and http://twitter.com/mobilizeyourbiz. My blog is http://mobilize-your-biz.com/wordpress and I'm on LinkedIn at http://www.linkedin.com/in/worldlyvibe.
You can email me at [email protected] or call me at 917-599-7004. I'm in NY but I work with people all over the country!
What made you decide to start your own business?
I had worked in corporate New York for many years and felt very unchallenged. In addition, I lost a great job in the Internet Bust of 2001 and saw so much of the work I had done, being exported. I knew it was time to find out where the future of income was, and I found it in online business.
What have been your biggest challenges so far?
I got caught up in the trap of what Rich Schefren calls a Serial Business Opportunist, and when he described the difference between that and a true Entrepreneur, I realized the mistake I had been making. I went from opportunity to opportunity, spending lots of money and making none, instead of taking one idea and developing it from start to finish.
How did you overcome these challeneges?



I took the time to open my heart and listen. I just stopped – let everything go by the wayside – until I understood exactly what I wanted to do. I did many of the things you recommend in your "Things to Try" section under the Resources tab; I pictured exactly what I wanted to make my life whole and happy. I reminded myself the importance of positivity and joy. I make sure I have a time each day when I can quiet my mind and be still. I also made exercise an absolute priority, and don't deviate from that regimen unless I'm ill.
What advice would you give to other business owners?
I think it's important to connect with like-minded people, and that truly is the advantage and the strength of the internet. Find the online community that gives you strength and inspiration and come to life in that context…. because there lies the foundation of your online business!
What is your favourite quote?
Failures are nothing more than steps in the ascent to Success. (Someone at some point said something similar, I don't know who, but I've tailored it to my own view!)
Who inspires you?
Oprah Winfrey, JK Rowling, Richard Branson, Steve Jobs