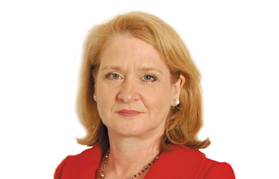 Deborah Morton-Dare helped with the setting up of Faculty-One Business Training 18 months ago with 2 colleagues, Lis & Marcia. Her background is a varied career starting in Corporate Finance in the City having qualified as a chartered accountant with a big 4 firm. Deborah then worked as a financial consultant and went on to set up and ran a small business. Deborah became a freelance lecturer specialising in financial awareness training when she had a family. Now they have grown up the opportunity to help with Faculty-One provided a new challenge.
---
What does your business do?
Faculty-One specialises in providing business training to individuals and organisations with a programme of both public courses and in-house.
Faculty-One is to training what Oxbridge is to teaching – providing excellence in the lecturers and effective delivery of their expert knowledge. Faculty-One provides small group training – normally no more than 10 – so that expert attention is given to each and every attendee. We provide, in effect, a tutorial system for a fraction of the cost of the usual one-to-one or small group courses.
This means our delegates don't simply come away from one of our courses with more questions than when they walked in: they are encouraged to consider points of relevance to their own circumstances and training needs. The difference is, Faculty-One delivers the answers.
If you're spending money on training, you need to make it pay. Value means delivering your people back with knowledge they can use. That is what Faculty-One is about.
What made you decide to start your own business?
Having worked freelance for a number of years whilst my children were growing up, the opportunity arose just when I wanted to find a new challenge to compensate for an empty nest. I have had experience of running a small business a few years ago and knew I could provide valuable financial expertise to compliment my colleagues skills.
What have been your biggest challenges so far?
Setting up a business in the worst economic climate I have experienced in my long career. Business training can be seen as a discretionary spend by some people and therefore will be an area hit hard by squeezed budgets and lack of business confidence. So persuading companies that when they reduce staffing numbers it is actually the time they need to invest most in developing staff skills when they are expecting them to do more to compensate for the cuts.
How did you overcome these challenges?
Trying to be as agile as possible in how we find new business opportunities, not relying on methods that may have worked in the past such as direct mailing. Investing time in networking is an example of this.
What advice or tips would you give to other business owners?
In uncertain times you need to have a sound grasp of finance and an ability to understand the difference between profit and cash, how your business works and what its critical success factors are. The number one tip from this financial understanding is realising that making a profit is not enough – managing the cash flow rigorously will make the difference in determining whether or not you survive.
What's your favourite quote?
Woody Allen – 90% of success is showing up.
This is the most important thing in starting a business – show up – be there and be ready to work very very hard. Never miss or fail to follow up an opportunity.
Who inspires you?
The people in business who inspire me are those that recover from a major failure or set back and still have the courage to try again. Fear of failing is the most limiting thing. Bouncing back is inspirational.