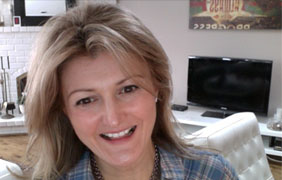 "Woman of the Week" 31st October 2011
Christine Stanschus set up Little Kickers for her son, Lukas. It is now a very successful franchise business, with over 100 franchisees operating around the world! Read her very inspiring story below.
---
What does your business do?
Little Kickers is a franchise business which runs football classes for pre-school children. The classes are educational, incorporating early learning goals and concepts whilst providing children with a positive introduction to sport.
The business operates through a network of approx. 100 franchisees in the UK and Ireland and through Master Franchisees in South Africa, Australia, Canada, New Zealand, and is in the process of being set up in a number of other locations.
We recently launched an educational rugby programme for pre-schoolers – "Little Rugby" and are piloting a dance programme "Little Dance Flavourz" which incorporates dance styles such as hip hop, latin, belly and bollywood into an engaging educational programme.
The UK Little Kickers website is www.littlekickers.co.uk, and the Head Office can be reached on 01235 859250. My email is [email protected]
What made you decide to start your own business?
I worked for an investment bank before I had my first child, Lukas, and was frustrated at how little time I got to spend with him when I returned to work following his birth. It seemed to be an "all or nothing" situation – it was not possible to perform my role part time. I also struggled to spend time away from my son every day doing a job which I did not really view as making a difference. For the first 2 years of his life, I saw very little of Lukas, and then decided to take some time out, as I had had enough! I set up Little Kickers for him and his young friends at that time, mainly because he was a very lively boy and wouldn't sit still in the music (etc!) classes which were all that was available then. Also, he LOVED football – I spent every day out on Wandsworth Common with him in London – I was always in goal and he scored penalty after penalty… At that point I decided to set something up for him and his friends, and it just grew from there, really.
What have been your biggest challenges so far?
There have been a few – managing cashflow was certainly one of the biggest, at least in the initial stages. The business did not take out any loans so money was always tight, so it grew on a shoestring with much of the initial money it made being reinvested to grow the business organically.
Working out how to grow the business (and taking the associated risks!) has also been challenging, but fun. I was not very familiar with franchising when Little Kickers first decided to go down that route, and it was a steep learning curve, but a very interesting one. This continues to be challenging as the business expands into new markets, particularly non English-speaking ones, and into new products.
Finally, managing people is always challenging, particularly as the business grows, and franchisees are at different stages of their business lifecycle. However, I also find working with the rest of the team the most enjoyable aspect of my job.
How did you overcome these challenges?
Cashflow – we kept a very close eye on our budgets and tried only to spend whatever was really necessary to expand the business. If there was anything we could do ourselves, we did it (and still do!)
Developing the business – I am a great believer in developing good relationships and feel that this is more important than any form of contractual agreement (even though we obviously ensure our legal docs are as watertight as possible). Entering new markets can be quite intimidating, but provided you have a local partner you know and trust and get along well with, you're 90% of the way there.
Managing people – it's a cliche, but I try to treat others as I would like to be treated.
What advice or tips would you give to other business owners?
Be prepared to get your hands dirty and become a "jack of all trades".
Act with integrity and don't allow money to be your main consideration. If you set up a good business the money should follow.
Always act in the best interests of the business. Treat other people fairly but don't allow anyone's actions to damage the business.
Take some risks – it's more fun that way!
What's your favourite quote?
"You miss 100% of the shots you don't take" – Wayne Gretzky
Who inspires you?
The Little Kickers Head Office Team and our franchisees.