How do other entrepreneurs make it look so simple to grow your visibility, attract leads and grow their business, when you feel like you're on a marketing treadmill and not seeing the results you're working so hard for?
If you've been asking yourself this question, you're going to love this episode of The She Means Business Show!
This week I'm joined by online business consultant and digital marketing strategist, Gemma Went!
Gemma previously created two incredible masterclasses for us inside the Members' Club, all about social media and creating an automated marketing system and her strategies are amazing!
Find out more about the Members' Club and Gemma's masterclasses right here >>>
In this episode she's sharing more about her evergreen ecosystem, that will help you grow your visibility and attract more leads, without having to constantly hustle!
In this episode we talk about:
Gemma's favourite sources for marketing inspiration and her best recommendations to help spark ideas.
How signing her first client when she was 4 months pregnant made her realise she needed an automated marketing system.
Gemma's evergreen ecosystem and how she creates online journeys that turn leads into customers.
How she plans her content and balances automation with human connection and building trust.
Gemma's top tips for increasing visibility and conversions.
If you would like to find out more about Gemma, head over to www.gemmawent.co.uk
Links & Resources:
I hope you love this episode and before you leave…
If you're a coach or run a service-based business, I have an invitation especially for you!
We're running a free challenge in collaboration with the incredible Gina DeVee called Package Your Brilliance!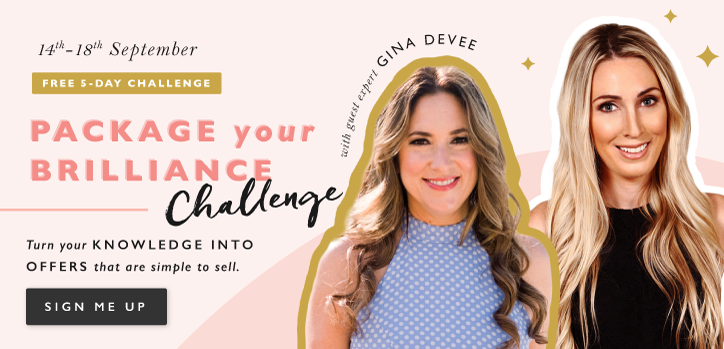 Gina will be giving 5 live training sessions inside our pop-up Facebook Group and helping you understand where you can get started with packages, how to get to $10k months, how to know what to charge and how to find your ideal clients.
Claim your spot now before we kick the challenge off on September 14th >>>