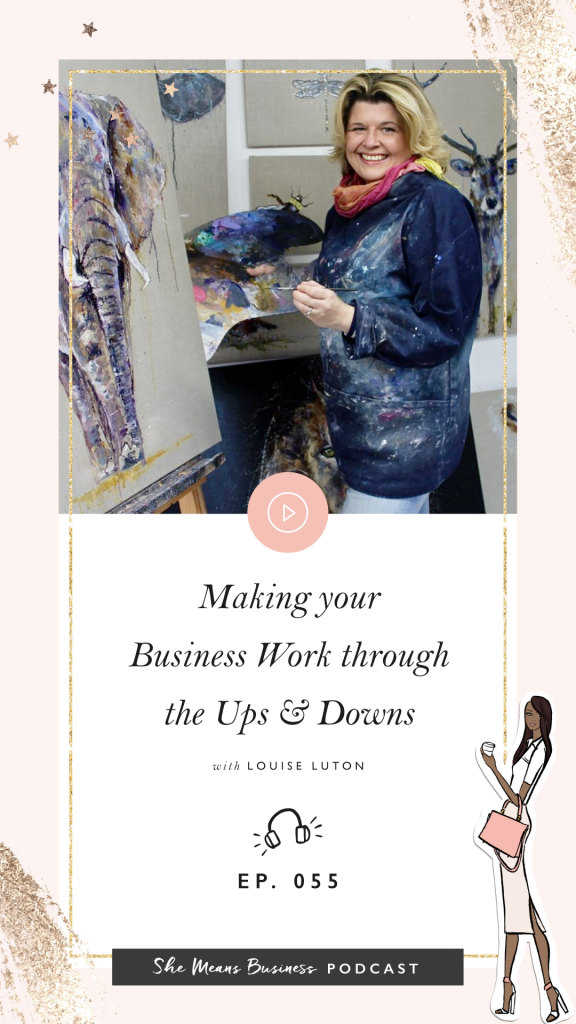 Sometimes even a job you once loved is no longer the right fit. This is exactly what happened to Louise Luton, who, after 20 years of teaching art and drama, started struggling with the pressure she was facing and having to deal with crippling anxiety. 
She decided she had to make a change, and despite the common misconception that you can't make money as an artist, Louise was an artist at heart and decided she would figure out how to make it work, so she set out to build her business, Louise Luton Art. 
Louise started seeing a return and her business going from strength to strength within six months. She later decided she needed to uplevel her business again and that's when she read She Means Business and eventually joined the Members' Club.
Sadly, the tragic loss of her father stopped her in her tracks and she went through a period where she felt she couldn't go on growing the business. This is where Louise says the community and support she received from the members of the Members' Club was indispensable, helping her realise that she was strong enough to keep going, step by step, growing the business and honouring her father through her art. 
In this podcast, Louise and I chat about:
Her beautiful art and how she has created multiple sources of revenue through her website, art galleries and by visiting art fairs. 

How being a successful artist means you also have to manage the business aspect. Louise shares how she managed to make it work when she first started and the important part that the Members' Club has played in keeping her going and growing.

The crisis of confidence and the mindset struggles she faced when she first started, being scared to approach galleries and charging too much for her art.

The three essential aspects of her business and how she manages each one.

The struggle she faced to continue working on her business after the loss of her father and how the support of other members from inside the Members' Club helped her make it through. 

How she adapted the traditional business plan for her own needs and how she uses the Members' Club monthly Goal Setting and Planning workshops to review and plan ahead.

A recent business award she won, which has continued to increase her confidence and encourage her to grow the business further. 

Her exciting plans for the year ahead, including an inspirational trip to Kenya and being featured in galleries in major cities in the UK and US.
Louise's top tips for success are:
No matter what you're facing, remember the importance of working on your business "little and often" – accept that you can't do everything today, but you can do SOMETHING today so just keep chipping away at your idea until you get there. 

Once your business is up and running, make sure you're reviewing your results from month to month. Identify the patterns in your own business and use them to make better decisions and create more success. 

When you're just starting out, focus on one social media platform rather than trying to be on multiple platforms all at once. 

If you have an idea you love, the timing will never be right so you just have to take the plunge and give it a try now! 

Join a community that can give you the support you need now – you don't have to wait until you're on top, join when you really need the help!
Find out more or connect with Louise
Website: www.louiselutonart.com 
Louise's work is also displayed and sold at the following galleries around the UK:
The Wey Gallery – Surrey
Park Gallery – Cheltenham
The Doll's House – Fordingbridge
Mayne Gallery – Kingsbridge
Ytene Gallery – Brockenhurst