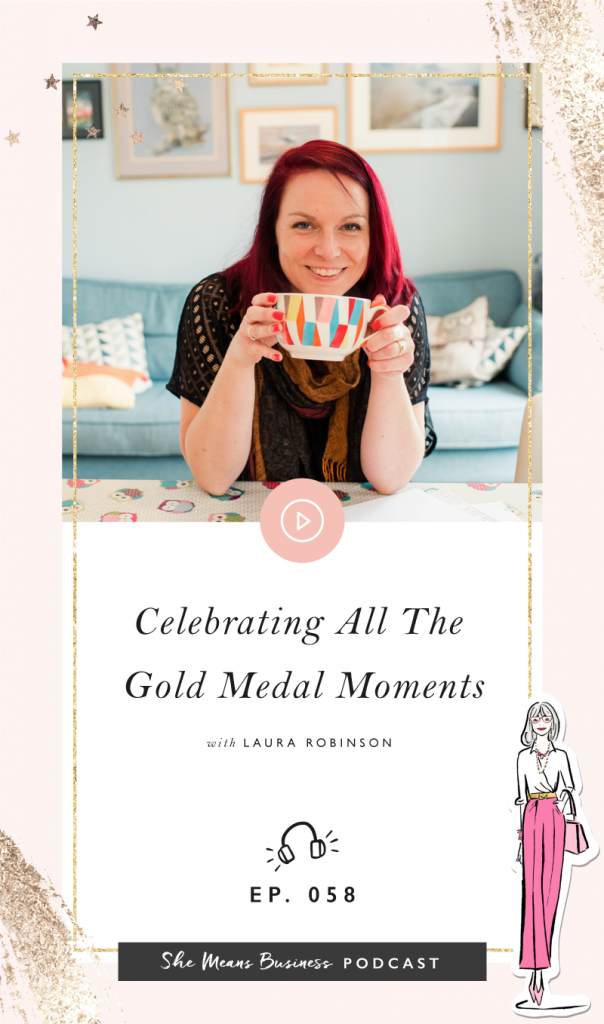 Do you ever wish that as an entrepreneur, you would get to go up on a podium, get cheered and applauded and given a medal every time you had a win in your business?
Because it's never an easy journey and every single challenge you overcome and every single win is worth acknowledging and celebrating!
In this episode of the She Means Business podcast, I'm joined by the amazing Laura Robinson, founder of Worditude, who went from corporate job to building a successful copywriting business.
Laura shares with me all about her journey, restructuring her family life to make room for her business, fulfilling her dream of taking her kids to Disneyworld and celebrating all the little "Gold Medal moments" along the way!
When she first went self-employed, she started out doing by-the-hour freelance work for agencies that were all run by men and was so lonely she joined FEA.
In this podcast, Laura and I chat about:
Her journey from corporate jobs, into freelancing agencies and finally managing her own successful business and fulfilling her goal of taking her kids to Disneyworld.
The gap in the market she identified in the copywriting industry and how she discovered a way to serve people in a more effective (and profitable) way that also made her happier.
How she first got started and discovered that she had to charge more.
Her struggle with feeling like other people seemed to be achieving success so much more quickly and easily than her.
All the friends she made through the Members' Club and the part they have played in her life and business.
How she restructured her family life to make room for her business and what her day looks like now.
Her dreams and goals and how she balances between dreaming big for the future and being grateful for what she has created up to now.
Her love for sport and how she celebrates and acknowledges her little wins through "Gold Medal Moments".
Laura's top tips for success are:
Don't panic if you feel like everything around you is going the wrong way, it's not a sign that you're failing. A lot of times if you're tired or overwhelmed, you're looking at things from the wrong perspective and you just need to take a break or talk to someone about it who understands (like your online business friends!). Don't read too much into it when you feel like "I can't do this anymore". Give yourself a break and things will seem a lot better when you come back to them with fresh eyes.
Find out more or connect with Laura:
Website: www.writewithworditude.com
Facebook: Laura from Worditude