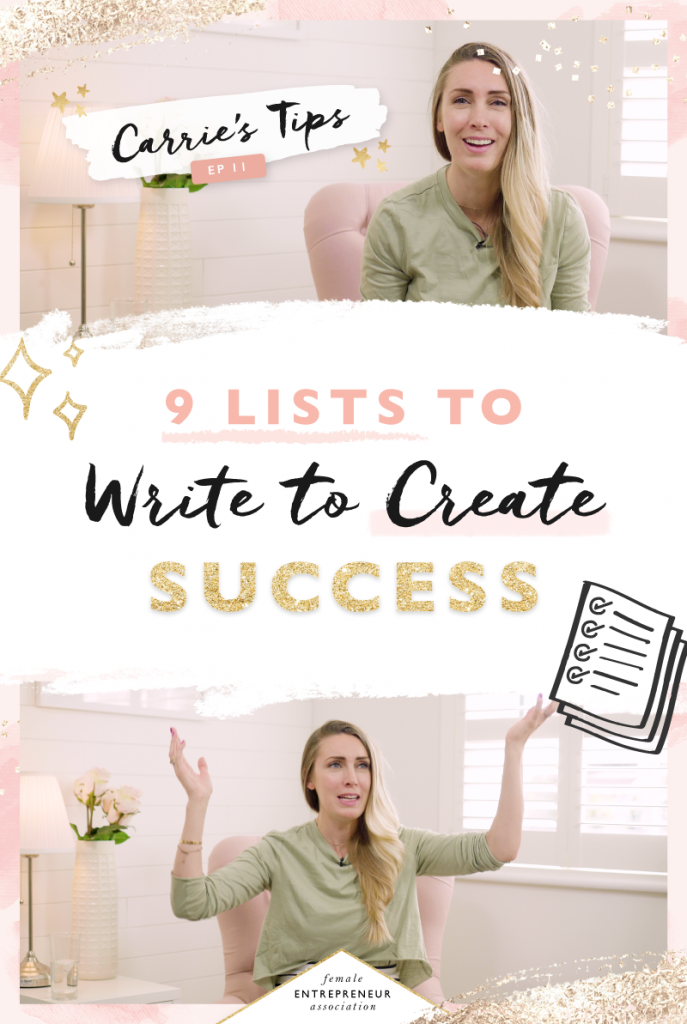 Let's talk all about lists! I love a good list, they can be so transformational for your business and writing out some specific lists can help you have the most incredible year. So I want to share some lists with you that have really helped me stay on track and create more success:


Reasons why you're amazing and things for you to celebrate
Let's face it, when you're building a business there are so many times when you doubt yourself and you think you can't do it or that you're not good enough. So if you keep a list of all the reasons why you are actually amazing and the things that you should be grateful for and that are worth celebrating, you can fall back on this list when you're not feeling your best and remember all the fun things you have to celebrate!

Things you want to achieve in your lifetime
This is an amazing list that will continue to evolve as time goes on, but it's so good to have this written out in one place, where you can keep adding to it. When you have a vision of what you want to do and achieve, it helps you to actually remember to make things happen and live the most incredible life! Have fun with it, dream big and think of all sorts of crazy things you could add to that list that would make your life marvelous!

Inspirational videos to watch when you need motivation
As an entrepreneur, there will always be times when you feel a bit unmotivated, stuck or frustrated and you just need some inspiration or a little kick up the backside to keep going and to keep believing in yourself. So what better way to do that than to watch some inspirational videos to fire you back up! So head over to YouTube and compile a list of your favourite inspirational videos that you can go back and watch again and again. You can then call upon this list whenever you need a top-up dose of motivation!

Inspirational songs to fire you up!
Music is so powerful and can completely change the way we feel! Having a list of your favourite inspirational music to listen to while you're working away on your business will help you feel like a boss! I personally have the Rocky theme tune on my list! It makes me feel like nothing can stop me! Think of songs that make you feel inspired, empowered and ready to make things happen!

Books to read to help you grow your business
It's so great to keep an ongoing book list and there are so many amazing books out there that can really help you to grow yourself and your business. Create this list so that you can get really intentional about reading each one and so that you can check them off the list and keep track of your progress. Get excited about making your way through that list, learning so much and becoming an even better entrepreneur.

Mindset magic tricks to help pull you back on track
This is essential for when you feel like you've fallen off the wagon! When you get stuck behind an obstacle or a challenge that's stalling your progress, it's so important to work on your mindset so that you can actually continue moving forward. Make a list of things you can do that will help you break through the block, for example, you might want to take some time out to visualise and reconnect deeply with your vision, to remind yourself of why you want to make this happen. Some other tricks you might want to list down include watching your inspirational videos or listening to your motivational playlist.

Questions to ask yourself when you're feeling stuck
This is so powerful because often when we're feeling stuck in our business, we don't know how to get unstuck! But if we asked ourselves a series of questions, it would enable us to shed some light on the situation and be able to move forward. It can be as simple as asking yourself what has not been working in your business, why it hasn't been working, what's the biggest thing holding you back right now and what changes you can make to overcome it. Having a list of these reflective questions will help you coach yourself to become "unstuck" a lot faster so make sure you keep this list handy!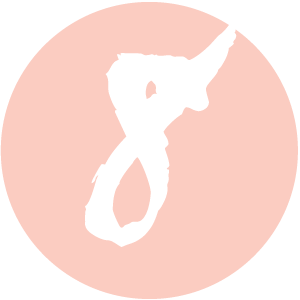 Values that you want to live by
If you know what you stand for, what truly matters to you and the values that you want to live your life by, then you can integrate that into your business in a really powerful way and it makes everything you do more meaningful. It also helps you to create a list of non-negotiable values that will help you act with integrity. Knowing them helps you stay true to yourself and live more intentionally. Just know what your core values are, write them own and remind yourself of them so that you can live your life in a really incredible way!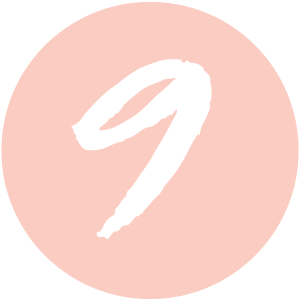 Questions to ask yourself to make sure that you're growing
This is such an important list for any entrepreneur because we have to be honest with ourselves about where we're at and what we're doing right or wrong. When things aren't working in your business, it's so important to be self-reflective and ask yourself what you might be doing that's not working and what you could do differently to turn things around. Ask yourself what you need to do to grow and progress to the next level so that you can create awareness of the things you need to improve or get better at in order to become a better entrepreneur and grow as a person!
So these are the nine lists that have really helped me and that I think are incredibly important to compile in order to live an amazing life and build a wildly successful business. I hope they can help you just as much! 
I want to share with you my own lists to help you and inspire you, so if you want a copy of these nine lists that I have created for myself simply click below!