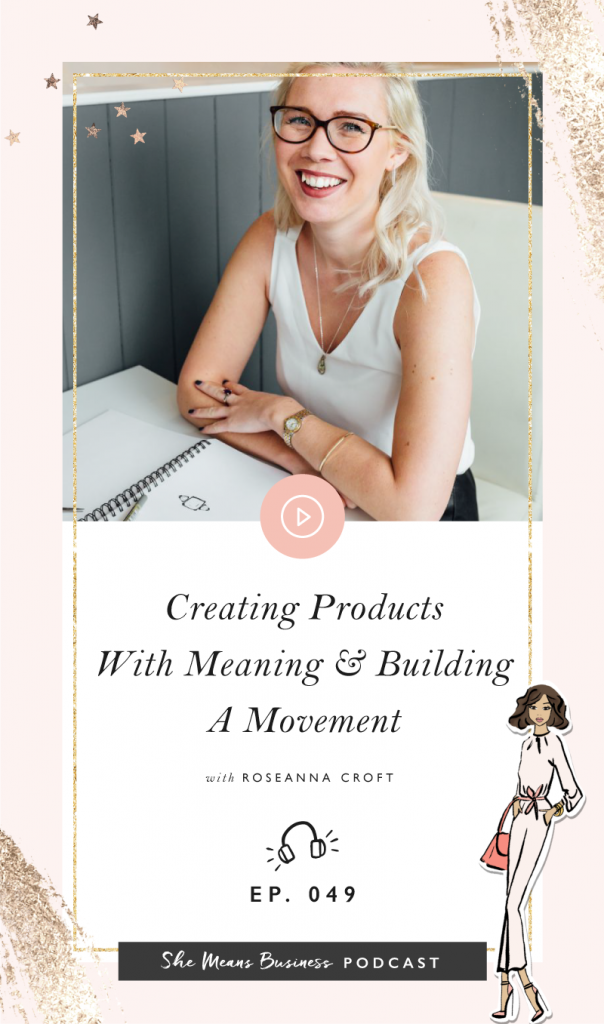 If you're building a product-based business and want to create more meaningful products that reflect your personality and encourage a movement around shared values, then this episode is for you! In this episode I'm joined by one of our amazing members from the Members' Club, Roseanna Croft,  who is the founder of Roseanna Croft Jewellery, a fine jewellery brand that designs bespoke and one of a kind pieces, to tell your story and capture memories.
After blagging her way into her first job as a goldsmith and working in the jewellery industry in Australia, Roseanna decided to boldly move back to the UK to start her own business. She declined a number of job opportunities and, with some help from her uncle, an established jewellery designer, she set up her own shop, up levelled her skills and slowly grew an amazing customer base. 
Roseanna realised that building a business was a lonely journey, so she decided to join the Members' Club. She says it has not only helped her learn all about social media and building websites, but also gave her access to an incredible community and the opportunity to find answers, inspiration, support and even friends! Roseanna shared how, after following an Annual Goal Setting And Planning Workshop, she went on to surpass the revenue goal she set for herself, doubling her turnover within a couple of years. 
In this podcast, Roseanna and I discuss:
How she not only moved countries, but also decided to take the plunge and open her own shop, even without any business experience.

The fear she had to overcome when approaching banks for a business loan and the organisations she joined to learn all about business and being an entrepreneur.

The early phases of her business and how she worked with her experienced uncle to learn for him, up level her skills and slowly build her own client base.

The product-creation process, from idea stage to building entire product lines that get people talking. 

How she overcame her tendency to constantly question whether she's doing the right thing and found the courage to put herself, her products and her business out there. 

Her biggest wins and how she has managed to get industry and regional press coverage as well as being recognized as a "Rising Star" by an industry magazine.

How she went from a low point in her life to embarking on a personal development journey and making self-care, her mind and her values a priority.

The process behind her new product (which has been 4 years in the making) and how she injected storytelling and meaning into it, that has now grown into a movement and attracted significant press attention. 

The importance of having the end destination in mind and accepting that the path might change, but if you keep working and moving forward, you'll get to where you want to go. 
Roseanna's top tips for success are:
Make self-care and living by your values a priority. Always make time to take care of your mind and body. 

Learn how your mind works and develop self-awareness – Recognize when you're falling into a negative mindset and try to get yourself back on track, because there's nothing like the power of positivity.

Believe in yourself and when you see other people's success, remember that you can do it too and that anything is possible!
Find out more or connect with Roseanna
Website: www.roseannacroftjewellery.com
Instagram: @roseannacroftjewellery
Facebook: @roseannacroftjewellery