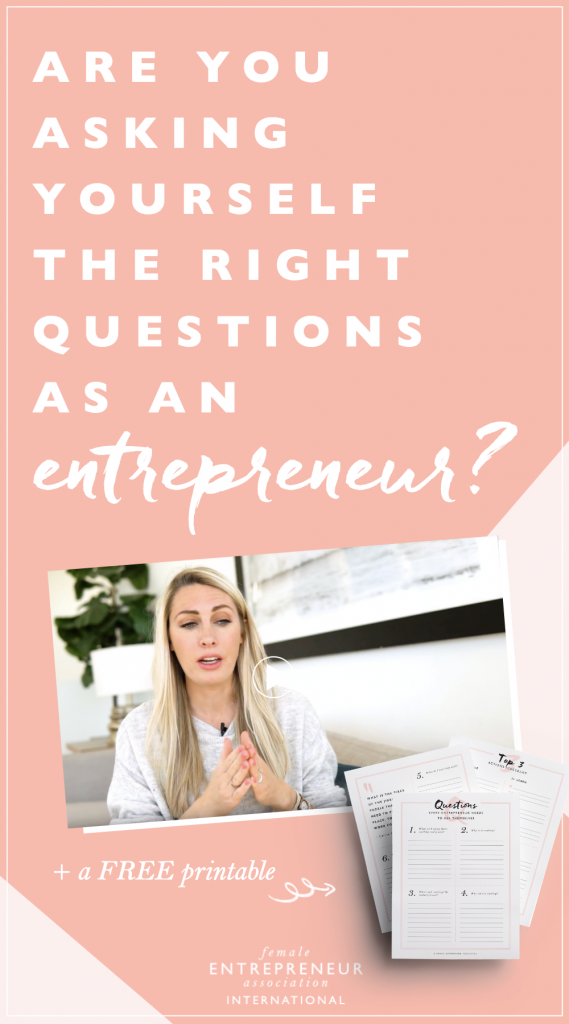 Being an entrepreneur often means we question ourselves on a constant basis. But so many of us waste our time asking the wrong questions, which leave us feeling stuck, frustrated and powerless.
Successful entrepreneurs on the other hand, understand that it's crucial for them to ask themselves powerful questions on a regular basis, using those answers to uncover their strengths and weaknesses and to map out a successful strategy for moving forward.
If you've been stuck asking yourself the wrong questions and need to sharpen your focus,  I am so excited for you to watch this week's video!
In it I share the questions I ask myself regularly to make sure I'm always learning from my results and making progress with my business.
Have a watch below…
To go along with this video we've created an amazing free printable to help you dig deep, ask yourself those high-value questions and turn them into a proper plan of action.



So here's the questions I ask myself almost on a daily basis to make sure I fully understand where I'm succeeding and where I need to improve.  

What am I doing that's working really well & why is it working?
Understand what you're doing well and why, then use that information as a learning opportunity and a template for your future strategies.

What's not working and why?
Entrepreneurship is a rollercoaster journey and you will face setbacks & failed attempts. Successful entrepreneurs use them to their benefit, digesting the results and uncovering weaknesses in their strategy which can be managed differently in future.

What do I need help with?
Rather than trying to master everything yourself and getting completely overwhelmed, it's so important to admit that you need help with certain tasks. Identify what you need help with and who can help you take your vision forward.

What do I need to learn to be more successful and to grow?
As an entrepreneur there is always something new you need to learn to help you accomplish your goals. Ask yourself what you need to learn, by when and find the right resources to help you.

What do I need to get better at or improve on?
Personal development is such a huge part of being a successful entrepreneur. Find out where you need to improve and map out the necessary steps you need to take to become more effective.
So there you have it! These questions have helped me to understand both myself and my business so much more, whilst providing me the answers I need to make more informed decisions.
Carrie xx
Want more business goodness?
Order my book, She Means Business >>
Get on the waitlist for Carrie & Co here >>
Subscribe to my YouTube channel >>
Find out about our Members' Club >>