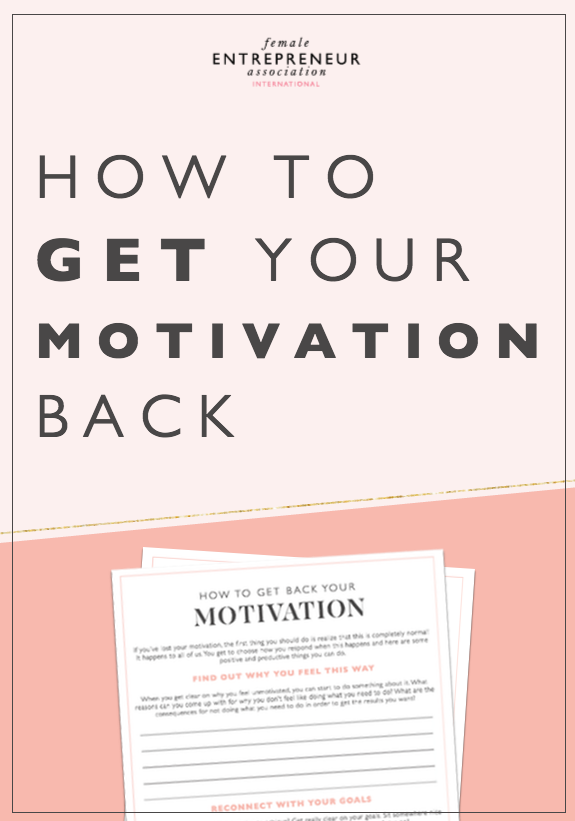 If you've lost your motivation, the first thing you should do is realize that this is completely normal! This is certainly something I've struggled with myself. It happens to all of us. Here are some positive and productive things you can do to get back to being fired up again.


REMEMBER THIS FEELING IS NORMAL
Every entrepreneur goes through phases when they lose motivation. So the main thing is to just change your perspective. When you feel this way, realize it's okay and remember that you get to choose how you respond.

GO BENEATH THE SURFACE
Start digging into the reasons why you've lost your motivation. By getting a grip on it, you can start to do something about it. What reasons can you come up with for why you don't feel like doing what you need to do? What are the consequences of not doing what you need to do in order to get the results you want?

GET CLARITY AROUND YOUR GOALS
What is it that you are actually trying to achieve? Get really clear on your goals. Sit somewhere nice and let yourself write freely. What do you want to achieve, work on, focus on?

CREATE YOUR GAMEPLAN
Prioritise your goals – what is the number one thing you need to work on? Make a list of all the steps you need to take to achieve it. You'll feel so much better and you'll cut through feeling overwhelmed and unmotivated.

SURROUND YOURSELF WITH LIKE MINDED PEOPLE
If you're feeling down in the dumps, you need people who are going to lift you back up. Who can you reach out to for a pep talk? Who always gets you inspired and back in the driver's seat?

IMMERSE YOURSELF IN ALL THINGS POSITIVE
Realize that your lack of motivation is all in your head, so get fired back up again by immersing yourself in positivity. Post motivating quotes around your home, listen to inspiring audiobooks and podcasts and create an uplifting playlist on YouTube.
 There you have it! And to help really dive in with this we have a worksheet for you. Use it to reconnect with your goals and check off the steps to creating your own motivational immersion experience. :)