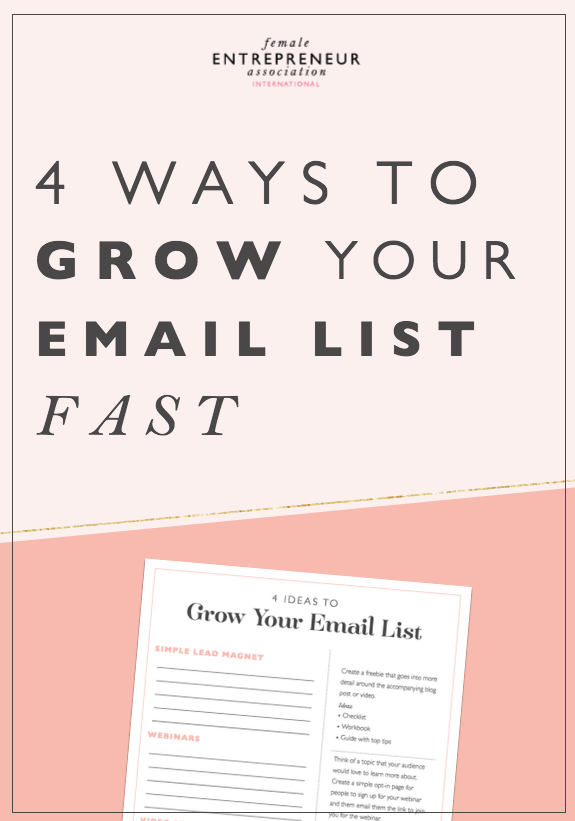 If you are building an online business, you need to be building your email list and it doesn't have to be overwhelming! Growing your email list can actually be very simple. It all comes down to offering something of value to your audience in exchange for their email address. Here are the top things I have done to grow my email list.
CREATE A SIMPLE LEAD MAGNET
This could be a simple checklist, a workbook, or a PDF guide containing your top tips. It's also really powerful to use these as "content upgrades" to go along with whatever video or blog post you create – a freebie that people can use to go into more detail around your content.

CREATE WEBINARS
Webinars are an amazing way to grow your email list. You don't have to sell on it, you can just create a value packed webinar that people have to sign up to attend. Create a simple opt-in page where people have to exchange their email in order to get the link to join in. You can use a platform like Zoom or Webinar Jam in order to host your webinar.

CREATE A VIDEO SERIES
You can take the 4 biggest questions that your audience asks you and create 4 videos that are jam-packed full of value. Turn this into a freebie that people would have to sign up for. Survey your audience and find out what they would most like to learn from you.

CREATE CHALLENGES
Back in 2013, I created a challenge called Mission for March. It came along with a workbook helping people achieve one big goal for the month of March. It was really quite simple and incredibly useful for building my email list. You can also open up a pop-up Facebook group to bring your audience together for a single focus and really create a sense of community and momentum for people.
---
To help you even more, we have a simple printable for you that you can use to map out your own ideas for freebies you can use to build your email list.
Leave a comment below and let me know the one thing you are going to do to build your email list. If you've already created your freebie, share it with us too!