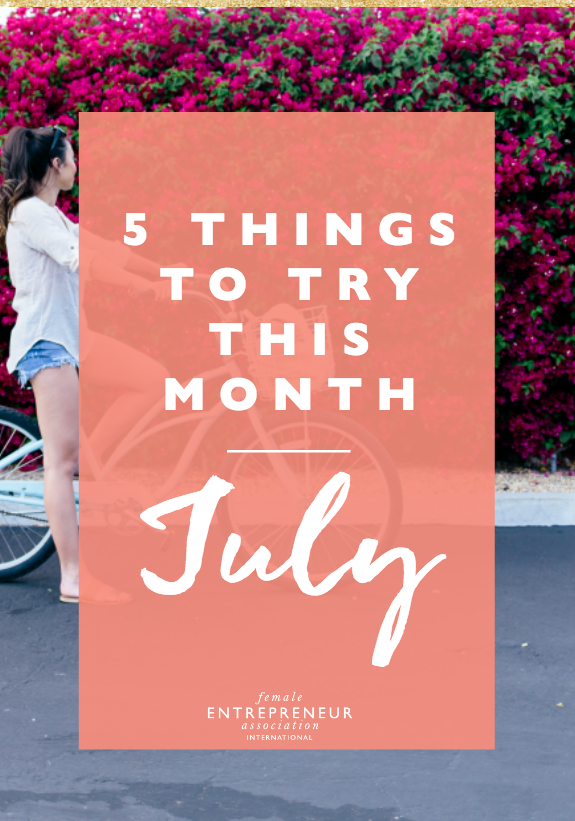 This month, the lovely ladies in the Members' Club are sharing their tips to help you take your life and business to the next level. We hope you have an amazing July and don't forget to leave a comment letting us know which tip you'd like to try!

MEET UP WITH OTHER PEOPLE IN YOUR FIELD
I've begun regularly meeting up with other Pilates studio owners. It's so great to chat about common challenges, share techniques that work for each other and if you have a problem they may (and usually do) have a suggestion about how to fix it. I always feel so professionally rejuvenated after these meet ups.
Emma McAtasney // Pilates & Barre with Emma

CONNECT WITH 3 NEW PEOPLE DAILY
Engage, message or even just compliment three new people a day via your social media platforms. They may begin to engage with you and thus take an interest in your business and more importantly, you've started your day by being kind to someone you don't know. You never know what this could mean to that person and the universe will repay you for this!
Hannah Britten // Vivid Hair

LET YOUR AUDIENCE HEAR YOUR VOICE
I recommend that you try and let your audience see and hear your voice either through video or podcast! This lets your audience energetically connect with your true essence!
Jeanne Street // Jeanne Street

BUILD YOUR WAITLIST
If you've got a great idea for a program or course you plan to launch, try putting up a waitlist page ASAP! This gives you a place to drive traffic from social media profiles, your email list and other sources to see if people are interested in the course topic before you create it. And it also gives you warm leads to launch to when you're done creating the course!
Jessica Castle // Jessica M. Castle, LLC

CREATE YOUR OWN AUTHENTIC STOCK PHOTOS
My tip is to create stock photos from your personal photo files. What more and more people are craving from blogs and social media feeds is authentic content. There is nothing more authentic than your own photographs. Go through your photo library and tag any photos that reflect your brand's content. Then stash those photos in a folder for future use. It will personalize your brand and save you cash.
Meghan Rosen // The Hodgepodge Girl