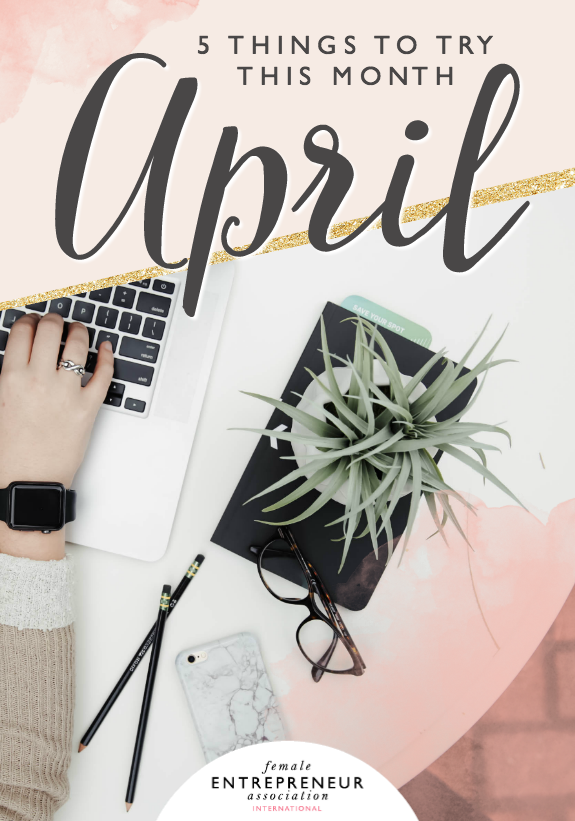 This month, the lovely ladies in the Members' Club are sharing their tips to help you take your life and business to the next level. We hope you have an amazing April and don't forget to leave a comment letting us know which tip you'd like to try!

HAVE A "WHAT I ACHIEVED TODAY LIST"
In addition to creating a to-do list, create a separate "What I achieved today" list. Every time you complete a task, no matter how big or small, write it down. At the end of the day read through your list – allow yourself to feel that sense of pride and achievement. You'll find that you want to keep adding to the list – which you can only do if you've completed a task! – Helping you to become more productive, focused and driven.
Natalie Benns // Mrs. Weightloss

WALK AWAY AND TAKE A BREAK
If you're completely overwhelmed or feeling like you aren't getting anywhere, walk away and take a break. Breathe, meditate, netflix, read or anything that will give your some brain space. It'll help you clear space so you can come back for a second look feeling refreshed and inspired!
Holly Sully // Holly's Abundant Universe

DO THE THING YOU ALWAYS WANTED TO DO
Make this month the month of possibilities! Try writing down at least one thing that you always wanted to do in business. Now think of how your business and life is going to change and what are the possible things for you if you did that one thing. Then write down the steps to get this thing done and do the first step…only the first step. I promise you you'll feel fantastic, your energy will shift and you'll move forward with the rest of the steps faster than ever and make what's possible for you actually happen!
Kenz A.Soliman // Kenz Soliman Creative

TAKE PLEASURE BREAKS
Schedule pleasure breaks every day. Taking a break is super important for your creativity, focus and well being. That way, you're setting aside time to actually work and get stuff done (rather than spending your time on Facebook doing "research." Yep. We're all guilty of that one!). I take pleasure breaks multiple times a day – they can range from 5 mins to 3 hours in length and include things like yoga, meditation, cooking up a healthy storm in the kitchen, binge watching Joss Whedon's Firefly, reading Jane Austen, a solo cardio dance party, or going for walk. In fact, go to your Google Calendar right now and schedule a pleasure break – your creativity and productivity will thank you for it!
Brogan Micallef // Brogan Micallef

PITCH TO A PODCAST, MAGAZINE, BIG BLOG, ETC
Pitch someone (or something) you would love to be involved in! Write to a podcast, a magazine, a big blog or a fellow entrepreneur you admire and see if there's a way you could collaborate. Places like podcasts and blogs usually have submissions guidelines, so be sure to check there first, and get a sense of their content and audience before you pitch. Stop dreaming and start doing!
Maggie Giele // Maggie Giele Digital Strategy