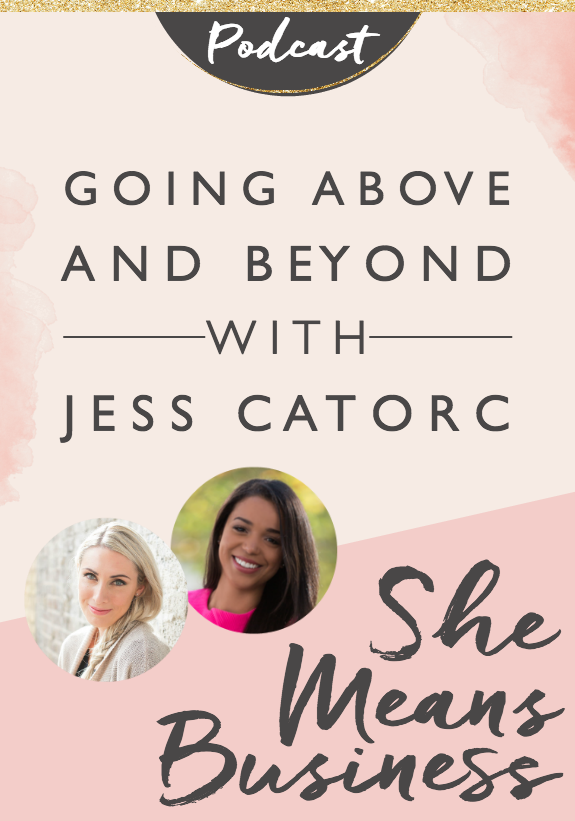 Join us for a behind the scenes look at Jess Catorc's business in todays podcast starring Jess Catorc. Jess is the founder of DIY Website Academy and the host of Making The Entrepreneur podcast.
COMPETITION: Leave a comment below to be in with a chance of winning a scholarship to Jess' DIY Website Academy scholarship!
A young entrepreneur:
Jess's journey started at 10 years old. She always knew that she would be an entrepreneur and started her first lemonade stand to benefit an animal shelter. It progressed from there and expanded into candy and cupcake sales as well. Growing up with a single mom, Jess was given an amazing example by her driven and motivated mom who never doubted herself or Jess.
Trying different things along the way as an adult business owner, Jess noticed that she was hiding behind her business and wasn't putting herself out there as herself. Her passions were web design, dance, entrepreneurialism, and it seemed that choosing a path was difficult. Jess noticed that sometimes it wasn't a lack of motivation or drive but of true passion and dedication that aligns with who she is and what she wanted to do. After going back and forth with this period of discovery Jess decided to leave her job in dance for digital media. After doing B School with Marie Forleo as a requirement for a job she realized that what she was putting out there in her new business was very corporate even though she was not. This is when things really started to change.
After putting things out there as herself and what she used to do, she started to draw in clients who understood who she was. Jess focused on serving people and asked them what they were struggling with. After she started hearing the same things over and over, Jess realized most entrepreneurs had a hard time doing everything themselves and she knew she could help.
Originally Jess struggled with feeling people wouldn't take her seriously due to her age (she started her business at just 23) or her background but she was able to move through these roadblocks and to continue on the journey. Talking to her mom, Jess realized she was focusing too much on herself and needed to remove her ego out of the picture and focus on the value that she delivered for others instead.
Getting your Message out there
Jess likes to think out of the box. Wanting to be a guest on Patt Flynn's Smart Passive Income Podcast, Jess read that he got over 400 emails a day of people wanting to be on his show. Jess decided not to do the traditional route and instead took what she would have written in an email and turned it into an epic video pitch. 6 hours after she posted it she got a response from Patt Flynn. She not only got his attention but she landed herself a spot on the show.   
Video has been a huge impact in Jess's business and seems to work well for businesses across the board. It's easier for people to connect with you via video when you are not in person. Jess likes to ask her subscribers who they are which seems so easy but she sent an email out truly asking who they are. She even asked for their mailing addresses and sent them actual hand written notes which helped make an impact for them. Jess attributes this out of the box thinking as helping her stand out from the crowd.
Jess has had some amazing opportunities online on different outlets including Teachable. Her online business allows her to connect with a lot more people (even though it seemed isolating in the beginning). If you give value just knowing that you are enough, things will start to take off.
Your Chance to Win:
Jess is giving away a DIY Website Academy scholarship!
A step-by-step method that will:
Take you from zero to having a fully completed (and beautiful) website at the end of the course.
My 4 step process for branding and designing your website to truly reflect you.
How to protect your website (including from hackers!).
How to easily backup and restore your website (so you never have to worry about 'breaking' your website again).
Learn the most important page all entrepreneurs need to have before their website is built (and how easy it can be to create).
And more!
Value: $497
Comment below with your biggest takeaway from this episode to win!
outline

of this

episode
[1:13] Introducing this episode with Jess Catorc, founder of the DIY Website Academy.
[1:55] The "movie of Jess' life: Following her dreams despite obstacles.
[3:40] Jess' story of starting her entrepreneurial journey from age 10.
[5:41] Jess Catorc's six-year journey to finding out what was right for her and how to be herself in her business.
[11:23] The next step: Launching her website.
[12:54] How Jess moved past her own insecurities
[15:52] Using videos for "delight and 'wow'."
[19:04] Connecting in a personal way with your subscribers.
[21:07] How Jess learned to deal with hate e-mails.
[26:47] What Jess Catorc is doing now.
[28:31] Jess Catorc's favorite quote and a few last words.
[29:53] How to get a chance to win a scholarship to Jess' DIY Website academy.
Resources

&

people mentioned