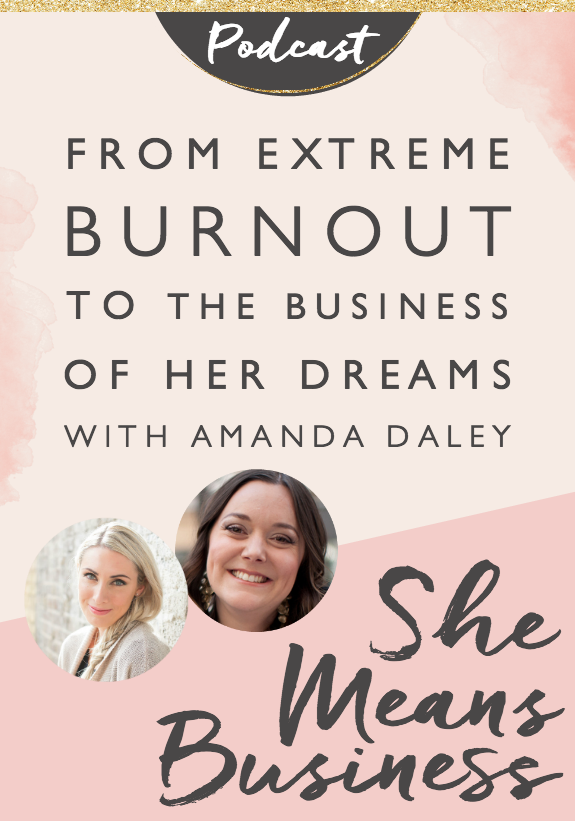 COMPETITION: Leave a comment below and share your biggest takeaway from this episode for a chance to win Amanda Daley's UPswing Client Kickstart program for health coaches (value of $995). 6 weeks to Confidence, Client & Cashflow- A proven system specifically to help health coaches create $5k+ per month.
Amanda Daley joins us today to show us the behind the scenes of how she built her super successful business. Amanda is a business mentor for business coaches and wellness entrepreneurs- a former health coach with a diverse background, Amanda created training to help other health coaches reach success in getting out there.
Getting Started
Amanda was in advertising and digital marketing for about 15 or so years and was doing amazing at it but found herself extremely burnt out. In her free time she was doing all these health and energy healing practices to try to find a way to keep up with the demands of her fast paced career and was really just unable to keep up. When her body was really feeling it, she started experiencing mindset shifts when she saw an advertisement to be a health coach and just jumped and went for it.
Taking her very limited savings she took her money and invested in an online course. She started blogging and creating content and  traveling health coach conferences and thought she really had the hang of this thing. The problem was? She had no clients. After about 6 to 9 months her husband said, "So have you gotten a client yet?" Amanda literally hit a wall realizing that she had left the top of her field to be in a new field where she had no idea how to get a paying customer. Having little confidence in her new field she was left in a very dark place.
Breaking through to the other side
Something inside of her just knew that this was for her, so she kept taking the steps. Working on herself internally around her beliefs and confidence as well as energy healing she started focusing inward. Outwardly, she started reaching out to other mentors and entrepreneurs. One day it started coming together and she realized she actually used to do this sort of marketing for other companies and was great at it. Something clicked. If she could do it for them, she could do it for herself.
Transforming Amanda's Business
For Amanda, she found that as health coaches you have to be seen. Then you have to be able to do the "dance" of asking a prospective client to do a discovery call with you. At that point your goal is to turn them into a paying client. The only part of this process that you really have full control over is the first part- how you are seen. At the beginning Amanda really heavily focused on how she was being seen. After that it really became a formula for her.
The next phase of taking it a step further- the health coaching profession was doing great for her. After bringing in her marketing background some friends of hers suggested she start mentoring other health coaches. She really struggled for months on this as she still saw business as the negative aspect that had really been a rough point in her life. After a bit of arguing with herself and her mentors, she decided to just put it out there that she was offering it. She realized that sitting on the skills to actually get the message of health coaching out there was not something that she could do herself. She suddenly got it that the skills that she had would enable her to make a huge difference to reach more people.
Amanda realized that other people needed this kind of training as well. Her courses focus on not only the consistent work and action you have to take but also the inner work as she credits this a lot to making herself a success as well. After that moment clicked, Amanda's business grew 10 fold in the first year and has done nothing but grow since.
Amanda's Advice for Anyone That Wants to Get their Message Out There
"Just do it", Amanda says. It may sound so simple but she finds that we know the message that we want to put out there in the world but we do not necessarily have the confidence. Instead of getting out there in the world and speaking out about what you want to do, we often focus on the perfect logo or a blog post when we need to be getting in front of people. Does what you have solve pain points for people? If so, the rest is just messaging and tweaking.
Amanda also credits her passion in what she does and her love for online marketing as fueling her success. The inner drive and the love of the execution is what keeps her going and has brought her success even when things were difficult.
Leave a comment below for a chance to win Amanda Daley's UPswing Client Kickstart program for health coaches (value of $995). 6 weeks to Confidence, Client & Cashflow- A proven system specifically to help health coaches create $5k+ per month: upswingkickstart.com
outline

of this

episode
[1:13] Intro of this episode with Amanda Daley, founder of amandajdaley.com.
[2:29] Amanda describes her business as a health coaching business mentor.
[3:42] How the burnout from working in advertising inspired Amanda to begin her entrepreneurial journey.
[5:28] Amanda's first steps – what didn't work.
[8:14] Amanda Daley describes how she got through the emotional rollercoaster of the early days of her business.
[11:04] Mindset — doing the inner work is just as important as the business training.
[13:32] Next steps to success – focus on being seen.
[15:11] What activities worked best at the beginning of Amanda Daley's success?
[16:32] Why and how Amanda made the switch from health coaching to coaching coaches.
[20:29] Amanda's top tip for people who want to coach.
[22:52] Know your message and communicate it with your market.
[24:26] What has helped Amanda Daley to be unstoppable?
[25:49] Lightning round: Quick answers to questions about business and resources
[27:57] How to get a chance to win one of Amanda's courses.
Resources

&

people mentioned