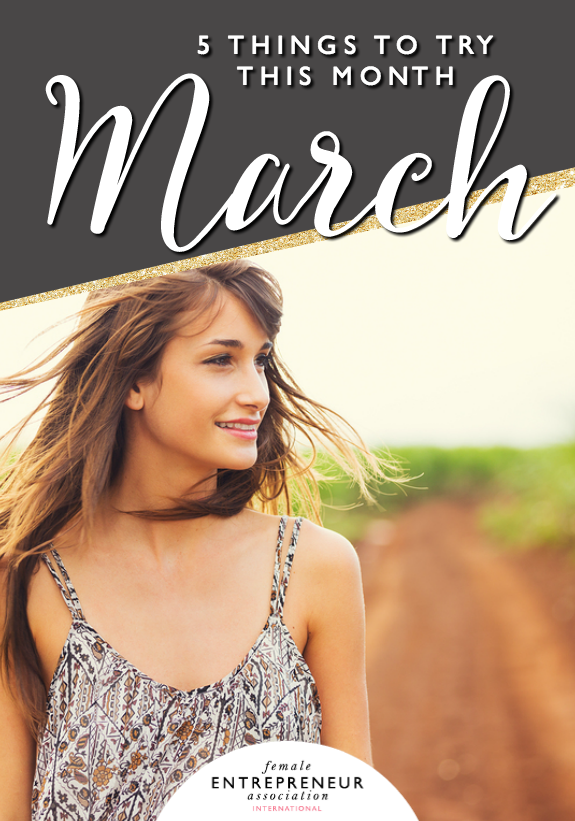 This month, the lovely ladies in the Members' Club are sharing their tips to help you take your life and business to the next level. We hope you have an amazing March and don't forget to leave a comment letting us know which tip you'd like to try!

BUILD YOUR SISTERHOOD TRIBE
Aim to network with at least one entrepreneur a month! It helps get us out of our comfort zone (we all know what we want is on the other side of fear right?!) and it helps us build our sisterhood tribe, so we can be surrounded by women who will pull us up!
Alexandria Rose Eleftheriou // The Mothership LTD

OFFER TO SPEAK AT EVENTS
Offering to speak at events helps you hone your message, and it's a wonderful way to position yourself as an expert. The organizers usually publicize the event and publish your bio and business, so it's a great way to get your name out there, plus you get to meet lots of lovely people face to face in the networking before and after. Start small at local events and build your confidence with bigger audiences over time.
Carol Carson // Grow Your Brands

HAVE TWO SEPARATE SPACES FOR WORK
Have two desks/work areas, or at least another area such as a kitchen table or a favourite coffee shop even. One space should be technology free – a space where you can sit and write and let the creative juices flow. This especially works for me when business planning.
Valerie Warner // The Hellesdon Handbook

WRITE ARTICLES FOR MAGAZINES
Write articles for Magazines as this increases your exposure and there is no cost usually. Find out what Agencies & Co's have call out lists wanting bloggers, business owners, female entrepreneurs, etc. We have a large one here in Australia that is fantastic in which I was featured as a Female Business Owner in 2012. This gave me free exposure and I was given a lovely Dress from Paris plus Complimentary Makeup & Hair for their Professional Photoshoot – then featured in Australian Prevention Magazine. It was SO exciting and it was a beautiful experience. I felt like a supermodel that day! So my tip is to find a Publicity/Media Co. that looks for contributors and ask to get on their mailing list (so you can keep an eye on what they are looking for). If you are selected to be in their magazine, include it on your website as it increases your professionalism and integrity and provide a link from your website to the article and you can use it in Social Media too.
Deborah Johnston // Deborah Johnston

SET YOUR INCOME GOAL
Decide on how much you want to make this month, how you are going to do it and visualise it every single day before you do anything else. Go on a no negativity mission and only allow yourself to listen to and watch things that will help build your belief in yourself and what you can achieve. See what happens!
Amanda Pickering // Amanda Pickering Health and Wellness