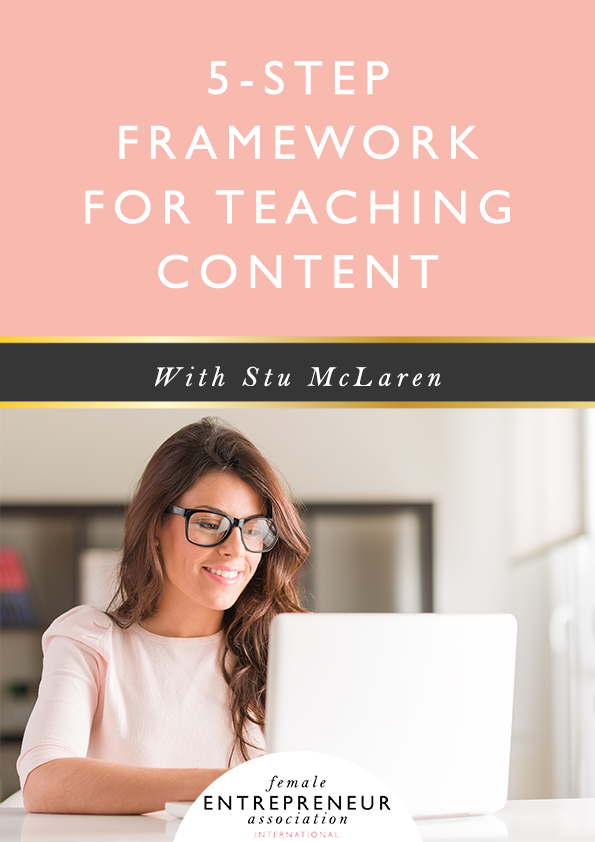 How do you create and teach impactful content that your audience will love, share, comment on and take action from?
I'm sure this is a questions most online entrepreneurs have asked themselves at some point or another, because we're all creating content! Whether it's through social media, webinars, online courses, emails, Facebook Live!
And we're not just doing it for fun!! We're doing it so we can engage with our audience, add value to them, have an impact so they'll love what we do and have to offer.
I remember back in 2011 when I'd just started the Female Entrepreneur Association, I knew I had to build an audience and I knew the way I was going to be able to do that was by sharing my message online through creating content… but I had no idea how to create content well…
Content that would actually have an impact and get people to pay attention and add massive value, but I knew I had to figure it out, because the online world is noisy – we're ALL creating content of some kind, so if we want to stand out then we have to do a good job with the content we're creating.
Since then I've learned a lot about creating and teaching content, but the most helpful has been having a framework to follow – knowing how to structure the content I'm creating, where to begin with it all, what to put in the middle and what to put at the end!
This framework is what's helped me to create content that is ridiculously engaging! It makes such a difference, which is why I'm so excited that the incredible Stu McLaren, founder of TRIBE, shared his 5-step framework with us in this week's 10-Minute Masterclass.
His framework for teaching powerful content will help you to:
Know exactly what you need to start with and why this is the most important part!
Why stories are powerful and how you can use them.
How to get your audience to take the action you want (whether that's leaving a comment, buying, sharing etc.)
+ So much more!
Have a watch below!
Plus, leave a comment below and let us know what type of content you mostly create (blogs, Facebook Lives, emails, webinars, social media posts…) we'll be picking someone from the comments below to win a 2 month pass to the Members' Club today (Tuesday 8th November).
The Members' Club is currently open for enrolment at the moment – start and grow your business with access to the best trainings and most supportive community for female entrepreneurs around the world. Find out more here >>
 

the

checklist
The 5 main steps in the framework Stu shared are:
The hook
Tell a story
Teaching points
Summarise
Call to action
Make sure when you create content to teach that you follow these 5 steps, it'll help you to make sure your content is impactful and gets people to take action :-)
I hope you enjoyed this week's masterclass! If you want to learn more from Stu, come and check out his Membership Masterclass in the Members' Club, it's incredible!
Find out more about it here >>
Carrie xx