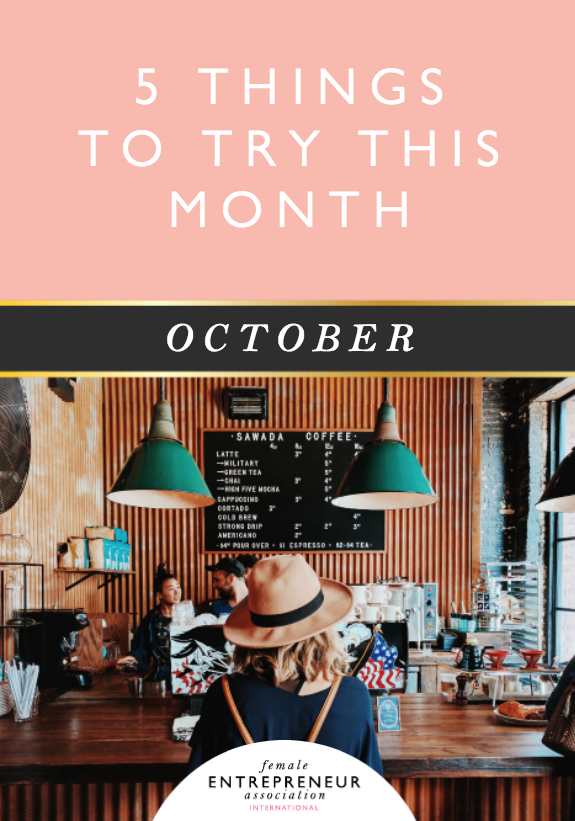 This month, the lovely ladies in the Members' Club are sharing their tips to help you take your life and business to the next level. We hope you have an amazing October and don't forget to leave a comment letting us know which tip you'd like to try!

PRACTICE MEDITATION
I started following Gabby Bernstein and I listen to her "Morning Meditation" and "Sleep Meditation." I find that it has helped me get clear on my goals throughout the day and has also helped me sleep at night, without having a million ideas going round in my head. It only takes 6 minutes for each meditation and it makes you feel as if you have had an extra 72 hours to get everything done. Amazing!
Alexandra Eleftheriou // The Mothership International

MAKE THIS YOUR CELEBRATION MONTH
This month, try to celebrate every single small win you make in your business and your life too! Sometimes we focus too much on the big goals and we forget to celebrate ourselves and our wins! Celebrating the small wins makes you feel more happy and more motivated to do even more! Try to celebrate in a fun way…maybe chocolates, your favourite drink, a nice movie night, or a day out with friends. Sparing time for a celebration is not wasting time! it is actually a great investment in your happiness.
Kenz A.Soliman // Just a Boss Girl

BOOST YOUR ENERGY WITH A BETTER BREAKFAST
Want that energy steady for the whole busy entrepreneurial day? Try focusing your breakfast on healthy fats and protein instead of carbs. Swap cereals for eggs and veggies in coconut oil and train your body to get the energy from fat. You may experience that your energy throughout the day skyrockets and stays stable. Which will make you more creative and productive. (The sugary cravings will be gone as well).
Maja Grugel // Maja Grugel

CHECK-IN WITH YOURSELF
As a busy entrepreneur, overwhelm is inevitable every once and a while, which is why it's important to make time every day to check-in with yourself and realign. Whenever you are starting to feel overwhelmed or stressed, stop what you are doing and readjust your posture so that your back is straight and shoulders are rolled back. This would also be a good time to have a quick stretch. Then place your hands on your heart chakra and take 3 deep breaths in and out. When you are starting to feel a bit more grounded, it's time to say some positive affirmations. The last step is to have a glass of water. A lot of the time when we are feeling a bit stagnant, it is because we are dehydrated, so make sure you are drinking plenty of H20 throughout the day!
Eula Thompson // Zorluna & The Goddess Clique

GO EXPERIENCE NATURE
Spend at least 3 days a week in nature paying attention to colours, textures, and sounds. It may be in your garden, in a park, by the sea, or in a forest. Nature is the best place to feel calm and inspired as there are no negative thoughts there. Everything seems to work harmoniously together at every second of the now despite the changing seasons.
Stephanie Manuel // Brand Smoothie