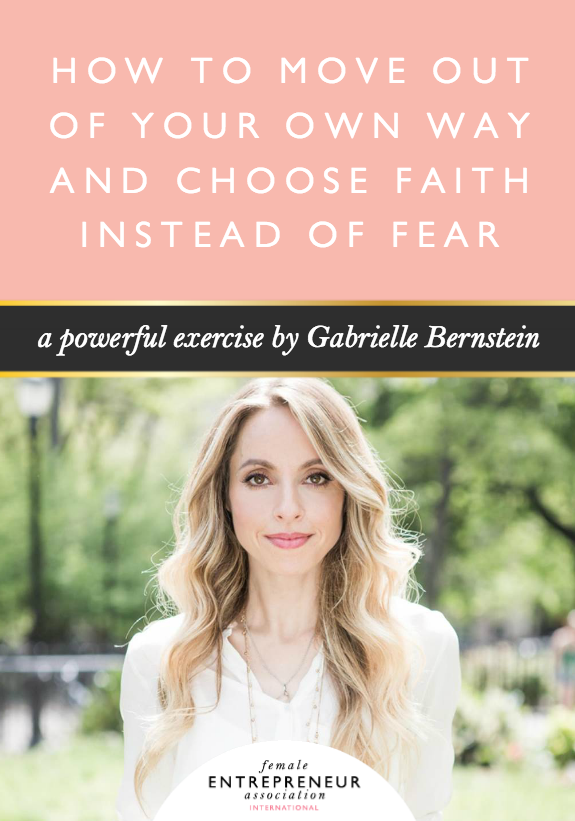 Throughout my entrepreneurial journey there is one thing that's held me back and slowed me down more than anything else, the one thing is…
ME.
It's not the time, it's not the money, it's not the lack of connections or know-how.
It's ME.
I've tried to fool myself, blame others, pretend that the obstacles holding me back were somewhere "out there", but it got me nowhere.
When I finally woke up to the realisation that I was the biggest obstacle in my way, I felt liberated, because I knew that somehow I could find a way to move out of the way and get on with achieving the things I wanted.
And so, I did. I set off on an adventure to learn all I could about myself, my fears, my doubts and worries, so that I could create a marvellous life for myself.
Along my adventure I stumbled across New York Times Bestselling Author, Gabrielle Bernstein, and through her incredible books and I've learned the most powerful lessons that have helped me to stop letting fear guide me and to choose to have faith instead.
FAITH: this small word has helped me to hang on to my dreams and goals and keep going when everything seemed hopeless. Instead of getting in my way and giving in, I've chosen to step into my true power and continue to follow the path in pursuit of my dreams.
Like the quote say…
"Faith is like WI-FI, it's invisible but it has the power to connect you to what you need."
We all need it, especially us entrepreneurs, which is why I'm so excited to share with you this interview I filmed with the incredible Gabrielle Bernstein.
In it she shares:
How to get to a place of certainty
How to handle your fears, so they don't hold you back
Simple actions you can take on a daily basis to help you step into faith
How to make sure you don't deprive the world of your gifts
An amazing lesson to help you get out of your own way
I've already replayed this interview many times, because Gabby's words are so powerful.
Have a watch below.
GIVEAWAY: Also, we're giving away 3 copies of Gabby's new book The Universe Has Your Back, for your chance to win, leave a comment below and let us know if fear has ever held you back. We'll be picking the winners on Friday 30th September.
Get a copy of Gabby's new book, The Universe Has Your Back + Gabby's bonuses here >> 
Also, on an exciting note, we've recently launched the FEA Book Club and to kick things off we're going to be reading Gabby's new book.
If you want to join us to read and expand your mind and chat all about it, then sign up here >> 
Every month we'll have a new book recommendation to help you thrive in business and an online Book Club Party where we'll share the biggest lessons we learned from the book. It's going to be fun!
Thank you for being here, keep the faith and know you can achieve wonderful things,
Carrie xx