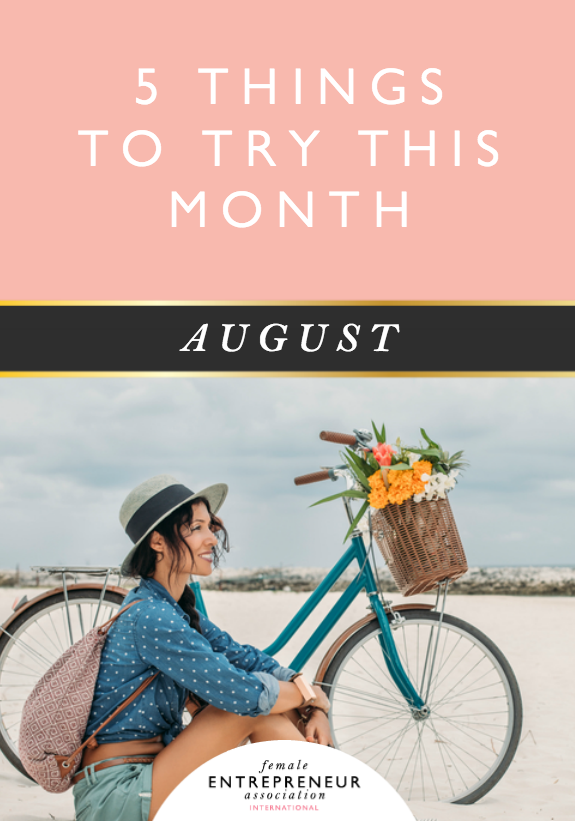 This month, the lovely ladies in the Members' Club are sharing their tips to help you take your life and business to the next level. We hope you have an amazing August and don't forget to leave a comment letting us know which tip you'd like to try!

ADD AN AUTOMATED WELCOME SERIES TO YOUR EMAIL MARKETING
Add an automated welcome series to your email marketing. Not only will you nurture leads so that they are more likely to buy from you instead of a competitor, but you'll likely boost your overall open and clickthrough rates. It's a win-win!
Lauren Pawell // Bixa Media

STOP APOLOGIZING
Stop apologizing! So often I hear women begin a request with "I'm sorry, but…" or "I hate to ask, but…". Let's agree to let the "sorry" part go, unless you've actually made an error and really need to apologize for a mistake. Make your request. Ask your question. Do so without apologizing and you'll come from a much greater position of authority and respect in any situation!
Hilary Johnson // Hatch Tribe

MAKE THIS MONTH THE "YES" MONTH
Make this month the "YES!" month! Simply try to say yes for at least 3 of the things that you've been unsure to do or not in your business and see how it works! Sometimes we get hesitant about things because we get scared that it may not work or it may cause problems in our business while they can actually be good, not bad! Write down the top 3 things that you were afraid to do in your business (even if it is posting something or buying a course or changing a price). Write down how will you feel if these things can have a positive impact on your business. Write down a list of actions you want to take to do these 3 things and start taking those actions and by the end of the month write down your results and you will be surprised! There will be at least one positive result and I can guarantee you 100% that you will be more "Business Brave!" You will train your mind to make more brave decisions and of course you will have more positive results from the actions themselves! And even if 1 of these 3 things gets you a bad result, you will learn that testing is the best answer to all your "what if?" questions.
Kenz A.Soliman // Just a Boss Girl

TRY TIME BLOCKING
Instead of a to-do list, try time blocking. Time blocking is scheduling a specific time for specific tasks. That includes everything from business tasks to personal time to family time. For example, schedule blog writing from "9-10am", emails from "10-11am", lunch from "11-noon", and later, "me time" from may be "4-5pm" and family time from "5-7pm". What gets scheduled gets DONE.
Stacy Barnes // Stacy Barnes – Productivity Love

ALIGN WITH YOUR PURPOSE
It's not about material success, rather success in a love and satisfaction sense. Take a moment now to imagine yourself on your death bed (sorry about the dramatic scene setting). Now think about what you're trying to achieve. Connect with your heart and ask yourself if what you are doing now is in alignment with your purpose. If your energy dips then it's a big no. If you feel a rise then keep doing more of what your doing.
Lyndsey Burton // Lyndsey Burton Spiritual Lifestyle & Business Coaching