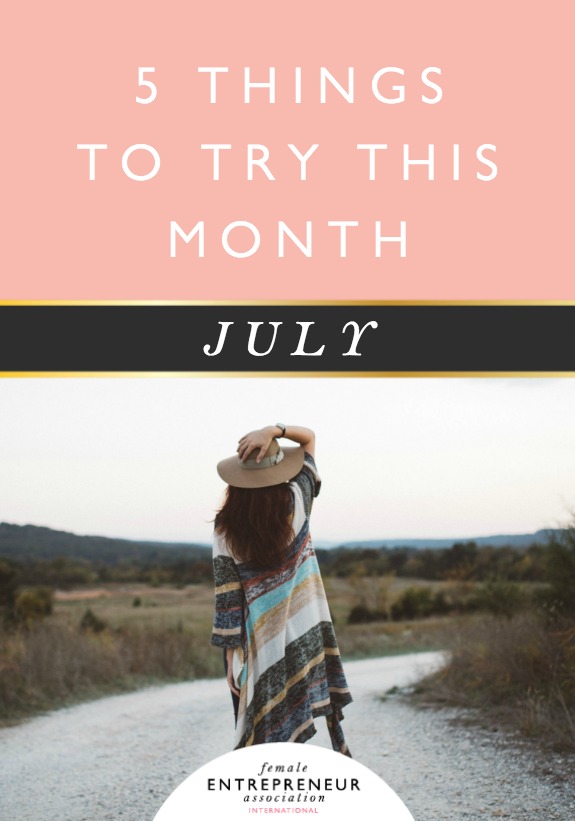 This month, the lovely ladies in the Members' Club are sharing their tips to help you take your life and business to the next level. We hope you have an amazing July and don't forget to leave a comment letting us know which tip you'd like to try!

CONNECT WITH YOUR CUSTOMERS IN AN EXTRA SPECIAL WAY
We all want to connect and engage our customers and leads. So why not try something different from the norm this month? If you post on Social Media, why not send a hand-written card to 10 of your best customers? Instead of emailing clients, why not pick up the phone? If you always call them, why not email them a link to an interesting article? You will be more memorable if you do something different; you will engage your customers more. Good luck.
Susan Heaton-Wright // Executive Voice

STAY IN YOUR OWN LANE
As a web designer, I felt so overshadowed by the many web designers out there. I was scared to put something out there that they recently put out because I didn't want to look like I was copying them. I've actually canceled a few posts, topics, and ideas because of this. Which ultimately broke me into the habit of constantly looking at what others are doing so I knew what to "avoid," and worse kept me from developing content of my own. So for two weeks now I've completely stopped paying attention to what others are doing and picked up more clients and made more income than I did these past few months. Bottom line – don't focus on what others are doing, focus on what you can do for others.
Jayne Bayquen // Jayne Karol Designs

TAKE ACTION AND STICK TO IT
I often find myself faffing about, waiting and struggling for a bit of clarity before I take action in my business. But clarity comes from experience, practice, and action. Only when we start doing stuff does it start to feel a little clearer – either we love it and are great at it or hate it and we can stop and change direction. So take small, consistent action in your business and you'll gain clarity along the way. Just have faith that you're on the right path, and keep moving forward.
Sarah Elizabeth Lahoud // Sarah Elizabeth Lahoud

DEVELOP AND FOCUS ON A SOCIAL MEDIA STRATEGY
Robin Sharma once said the "where there's disorder, there is distraction".
As someone who teaches business owners how to profitably leverage Social Media for their business, I would be remiss to not caution you on how it can also be a MAJOR time-suck for entrepreneurs, if there's no effective plan or strategy behind the time you spend on social media.
Be intentional (and responsible) with your time, and laser-focused on developing your social media strategy…so that there's marked return on the time investment.
Ashley Knight // The Ashley Knight Company

SET A GOAL THAT FEELS WAY TOO AMBITIOUS
Tim Ferriss' statement about how there's less competition for big, crazy goals has made a huge impact on me. We spend lots of time tempering our goals and expectations so that we don't get disappointed, but then our goals are boring to us and feel optional.
Sometimes you need to set and attain a goal that reminds you just how big you can show up and play in your business. So whatever that thing is that you're putting off for your next 90 day plan when you're "bigger" or "more ready" — do it now!
Lisa Haggis // Lisa Haggis, Brand Strategist