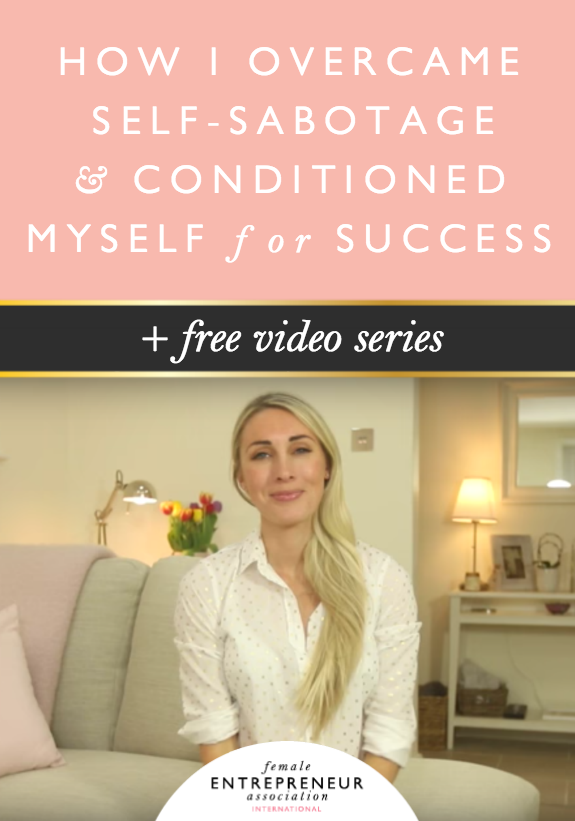 So I'm guessing that as you're here, reading this post, it's likely that you've experienced self-sabotage to some extent. Me too.
I'm pretty sure every single entrepreneur has, because trying to turn an idea into a reality pushes us so far outside of our comfort zone the negative committee inside of our heads pipe up and start telling us we're not good enough or that we can't do it! Lol.
My negative committee used to be so loud inside of my head that it took me 3 years to pluck up the courage to put my idea to create a platform for women in business out into the world!
Throughout those 3 years I was so consumed with doubts, fears and worries. It was crazy.
Then in 2011 everything changed, because I decided to change and I haven't looked back since (although, don't get me wrong, the negative committee do still meet in my head!).
So in this week's video I'm sharing what I did back in 2011 that helped me to overcome my self-sabotage and condition myself for success. I have some specific action for you to take if you want to do the same thing.
And to help you even more with this I have lots of free goods for you! Starting today I have a fun mission for you to get involved with… Mission Success. If you're feeling like you have a bazillion blocks you're struggling to move past, if you feel held back by doubts or worries, if you feel like you want to just up-level yourself and your business and have breakthroughs then definitely come and join me for this.
We we did this last year people achieved and experienced the most incredible things, so definitely get involved!
You can sign up for free here >> 
(or find out more below)
mission

Success
So what the heck is Mission Success?
It's all about making a commitment to yourself that for the next 30 days you'll focus on conditioning yourself for success, so that you can move past your blocks and up-level your business and life. If you're up for it I've got lots of goodness in store for you…
Videos

Checklists

A visualisation

+ more
If you want to join me to condition yourself for success, click here and I'll make sure you receive all of the good going out over the next few weeks >>
I really hope you enjoy the video I have in store for you today, leave a comment over on the blog and let me know if you're up for joining me!
See you very soon!
Carrie xx