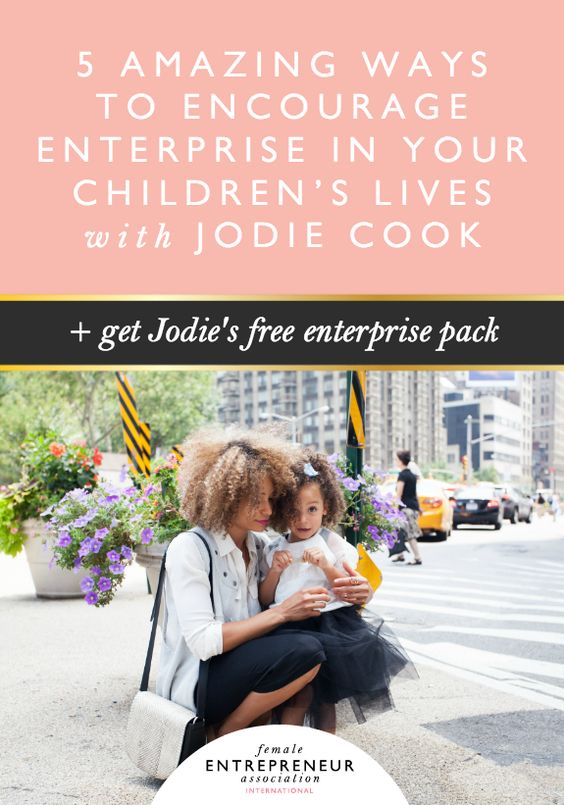 With the creation of the internet there are more opportunities than ever before to start your own business and build an amazing life, but ultimately we all need encouragement in some shape or form. I grew up in a really entrepreneurial family and have been so lucky to be surrounded by that encouragement and positivity from such a young age, and it's really important that we make it our responsibility to encourage the younger generation now.
In 2015 it was recorded that there are more people working for themselves than ever before, and in the UK alone 15% of the working population are self-employed and it's only going to get bigger over the next few years. We know that more of the younger generation will be setting up their own businesses and they are going to need that encouragement to show them that anything is possible!
That's why this week we have been joined by the wonderful Jodie Cook, creator of the Clever Tykes storybook series and in this 10 Minute Masterclass we talk all about the younger generations and what we can do to set them off on the right foot.
In this masterclass Jodie shares:
How we should encourage children to embrace their mistakes (not fear them!)
Why communicating over the phone is important
What can be learnt from queuing
+ lots more!
Have a watch below…
GIVEAWAY: Make sure you leave a comment below and let us know how you are helping to inspire & encourage the children in your family and life, and be in with a chance of winning a 6 month pass to the Members' Club!
about

Jodie
Jodie Cook is a social media entrepreneur, founder of JC Social Media and the creator of the Clever Tykes storybook series, created to inspire enterprising behaviour in children. 
Get Jodie's free enterprise pack here >>
the

Breakdown
Here's a breakdown of what Jodie shared in the video above…

CELEBRATE MISTAKES
It's so important to view mistakes in a positive light as things that we can learn from, rather than things that we should stay away from. If our children make mistakes it's important to raise the question: What did we learn from this? and What can we do better next time?
Having that positive view of the mistakes we make is going to enable the younger generation to learn and grow from their mistakes, rather than fear them, which is something worth understanding from a young age.

USE THE PHONE
Communication is so important and picking up the phone to speak to a client or a supplier is something that we are all probably really familiar with. Despite the fact that it's so convenient and easy to tap away on a phone to send a quick text or email, it's so much more important to encourage the younger generation to communicate with a human being, rather than just using text on a screen and hiding behind a mobile device.

ASK WHY IS THERE A QUEUE?
If we find ourselves standing in line with a child whilst waiting to pay, it can be a really useful learning situation to ask: Why is there a queue?
Why are all these people standing in a line to buy this product(s) that we are standing and waiting to buy too? It's a great and really simple way of teaching supply & demand, and getting those children to think in an entrepreneurial way about what they could one day create that is going to get other people to queue up to buy it.

TAKE THEM TO YOUR PLACE OF WORK
If you have the opportunity to do this, take your child with you and allow them to sit and be in your work environment that you are in every day, so that they can experience this.
Give them a small task to do and this will enable you to start the discussion of what they want to do, or don't want to do, when they're older and have finished school. It gets them thinking about their future and what avenue they might like to go down, and then at later stages they will hopefully be considering things like this on their own, it sparks their imagination.

DON'T PAY POCKET MONEY IN REGULAR INTERVALS
A salary is paid at regular intervals every month, whereas entrepreneurs know that this isn't the case when it's your own business, as money comes in at different intervals. By not getting children use to an allowance at regular times each month, it enables you to get them thinking about other ways that they might be able to make more money throughout the month, and paves the way to self-employment a bit more.
the

giveaway
Comment to WIN a FREE 6 Month Members' Club Pass 
One lucky winner will win a FREE 6 Month FEA Membership! This offer is open to current members too :)
To Be Entered to Win: Leave a comment below and let us know how you are helping to encourage the children in your family and life, we would love to hear any of your advice and tips – share them below!
See you next week for another 10-Minute Masterclass!
Carrie xx
P.S. If you're not already a subscriber, sign up below so you don't miss next week's Masterclass!