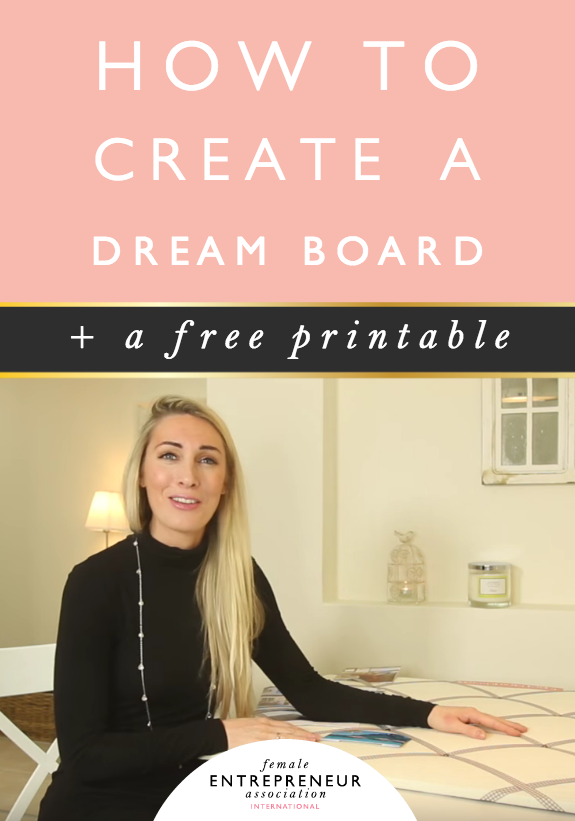 I have always been a fan of dream boards, where you can pin your dreams and goals to it and see it every day! Because you know, being an entrepreneur is pretty crazy and chaotic, we have so much to do and it's an emotional roller coaster, in emojis here's what I think a day in the life of an entrepreneur looks like…

(Haha!)
When we feel so many different emotions it's easy to disconnect and fall out of alignment with our goals and that's why I love dream boards so much, because they keep your dreams front and centre for you to see every single day, which helps you to stay connected.
And, it works!! Back in 2013 I made a video (which you can watch here), where I shared the process of creating a dream board and in the video I shared my own dream board and shared some of the goals I had.
I wanted to get 100,000 fans on Facebook. I now have nearly 300,000 fans.
I wanted to get 100,000 email subscribers, I now have over 100,000 email subscribers.
I wanted to fly business class, because it looked comfy, so I have since flown business and I've first class a few times and it didn't disappoint :)
It really works, because the process of creating and having a dream board is all about pushing you to get into dream mode. To dream big, get creative with what you want, get intentional and then stay connected to those dreams and when you're in that place, that's when the magic begins, that's when you make stuff happen, because you're living with intention.
I've made a video all about my experiences of creating and having dream boards and I share my process for creating them, have a watch below.
We've also created a printable with inspiring quotes, words and affirmations on for you to pin to your board + a DreamSheet to help you write our your dreams and get clear on what you want!
Also, if you already have your own dream board I'd LOVE to see it! Tag me in a post on Instagram – @carriegreen_fea.
the

goods
Download the worksheet here >>
the

Breakdown

Get your pin board and pins at the ready :)

Get dreaming big and write out all of your desires and the things you want to put on your dream board. Have lots of fun with this and don't hold yourself back.

Get or create images that represent your dreams well. You could print off pictures of what you want, use PicMonkey to create images, write out your desires and pin them on. Basically just gather together everything you want to pin on and create your amazing dream board.

Add powerful words, affirmations, quotes etc. to your board that will help you to stay aligned and to feel empowered every time you look at your board. For example, I always put 'trust' on my board to remind me to trust that my dreams are on their way to me. I've put some of my favourite quotes, words and affirmations in the printable, so check it out :)
Just have fun with this!
the

giveaway
Comment to WIN a FREE 6 Month Members' Club Pass 
One lucky winner will win a FREE 6 Month FEA Membership! This offer is open to current members too :)
To Be Entered to Win: Leave a comment below and let us know whether you have a dream board and any of your tips!
See you over in the Facebook group for the Mission for March Challenge!
Carrie xx