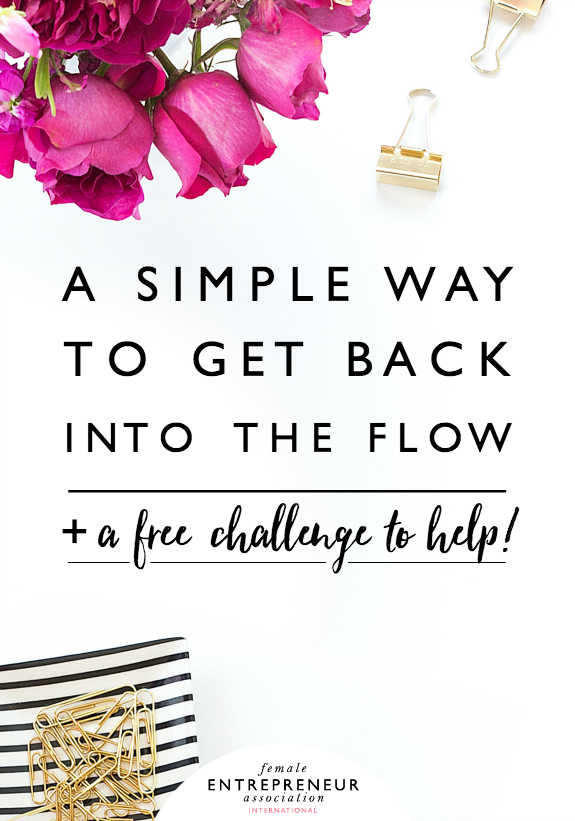 Do you ever feel like you've lost your motivation, you're out of the flow and as a result you feel frustrated, because you're not making the progress you'd like?
I know my answer to that question is YES. I go through phases of feeling like this, because building a business isn't always easy! There are a million things to do, half the time you don't even know how to do what you need to do and so when you're up against so much resistance it's easy to slip off track and find yourself feeling like you're swimming upstream.
So losing your motivation and feeling out of the flow are totally normal things to experience as an entrepreneur (it means we're human!).
But when you're out of the flow how do you get back into the flow? How do you get back on track and start making the progress you want?
Well, in my experience there's one simple thing you can do that will instantly change everything and help you to get back on track. This works for me every time!
Watch the video below to find out what it is…
EXCITING NEWS: to help us all get motivated, inspired and fired up to achieve BIG things we're doing the Mission for March Challenge again! We're going to come together for the month of March to focus on achieving a massive goal and we've got lots of goodies in store to help you. Last year thousands of women joined us for the challenge and the stories of what they achieve was phenomenal! So if you want to join us this year and challenge yourself to make massive progress this month, find out more here (it's totally free!):
JOIN THE MISSION FOR MARCH CHALLENGE >>

Leave a comment below and let me know if you're going to join us for the challenge :)
the

breakdown
In a nutshell, the way to yourself back into the flow and motivated to succeed is to make the decision to do it. From that decision, everything else will flow. I realise that this may seem very simple, but it's true. Your reality is being created every single day from the thoughts you're thinking, so if you're feeling out of the flow and unmotivated it's because of what's going on in your head, so make the decision to take control and change it. You can do it. Watch the video for more on this :)
the

giveaway
Comment to WIN a FREE 6 Month Members' Club Pass 
One lucky winner will win a FREE 6 Month FEA Membership! This offer is open to current members too :)
To Be Entered to Win: Leave a comment below and share what helps you when you're feeling out of the flow. We'd love to know!
See you over in the Facebook group for the Mission for March Challenge!
Carrie xx