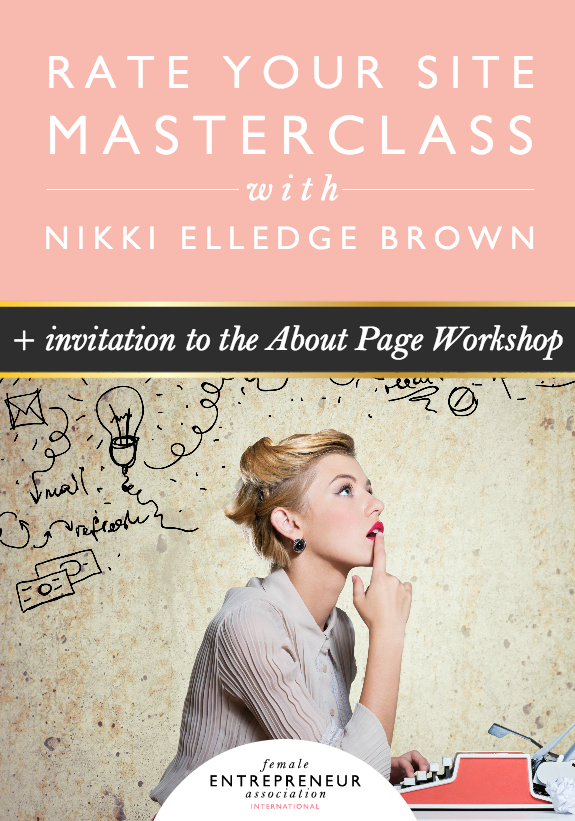 If you have a feeling you're missing the mark with your website copy, you will LOVE this week's masterclass.
I'm joined by the amazing Nikki Elledge Brown, creator of A Course About Copy (who also happens to be one of my dearest biz buddies), and we're talking about how to step back, take an honest assessment of your site, and most importantly – how to IMPROVE your copy so that it attracts your dream clients + customers even while you sleep.
Nikki and I thought it would be fun to surprise a few lucky ladies from The Members' Club with complimentary copy reviews as part of this week's training, so that's what we've done!
In this "Rate-Your-Site" masterclass, Nikki shares:
the most popular pages to include on your business website (+ why)

the 3 questions you MUST ask yourself before writing another word on your site

the most common mistakes most of us make with our copy (+ how to fix them)

PLUS a bonus download + a chance to win your OWN free copy review!

EXCITING INVITE
Nikki is joining me next Wednesday for the first-ever About Page Workshop!! We had a huge turnout for the last free training we hosted together, so I'm reallyyyy excited about this one. It's going to be so much fun! Come hang out with us and take your website copy to another level!

Also, leave a comment below and share a link to your about page if you want to be in with a chance of getting Nikki review it for you on the live workshop :)
See you next week!
Carrie xx