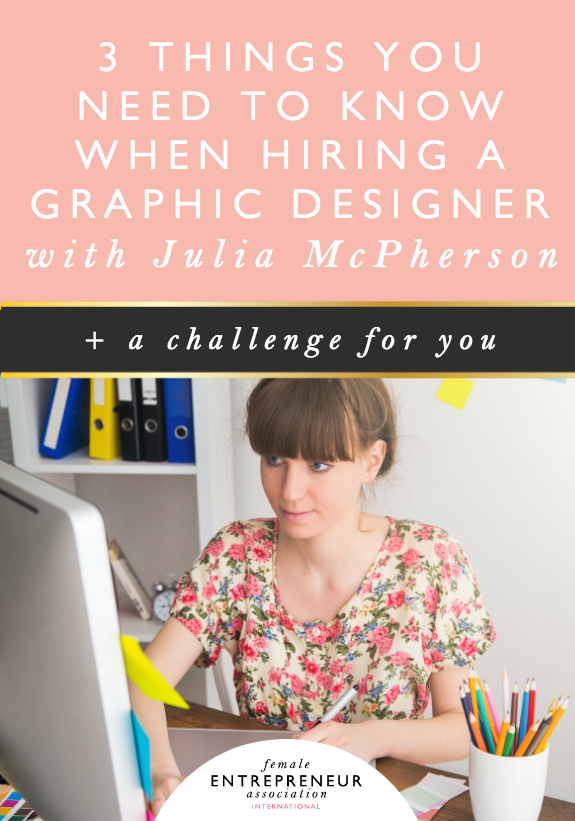 How our brand looks and feels is so important to us as entrepreneurs, we want it to look amazing and do a great job at representing what our business is all about. But most of us aren't graphic designers so it's a great idea to work with a wonderful graphic designer who can help align our brand's look and feel with our message – and someone who knows all the essential fancy things when it comes to sizing, file types, printing, online graphics and more!
If you've never worked with a graphic designer before or don't know anything about graphic design, then you might not know what to expect or look for, so to help you with this, we're joined by the lovely Julia McPherson and she's going to be sharing 3 things you need to know before hiring a designer.
In this masterclass Julia shares:
What formats & technical things to ask your designer
The importance of a branding document
How essential it is to find your graphic designer match & get a contract with them
+ lots more!
Have a watch below…
GIVEAWAY: Make sure you leave a comment below and share what your branding says about you, and be in with a chance of winning a 6 month pass to the Members' Club!
about

Julia
Julia McPherson is a marketing automation consultant and graphic designer, helping female entrepreneurs save time by handling all the technical aspects of creating an online presence.
the

Breakdown
Here's a breakdown of what Julia shared in the video above…

KNOW THE FORMATS TO ASK FOR
If you're building a brand online as well as being shown in print, you're going to need to make sure you have the right formats for both of these, as print and online differ from each other.
You want both CMYK and RGB (which are the colour formats) in addition to making sure all the imagery you receive is in a high resolution. When it comes to your logo and branding you want to ask for your imagery as a vector, and make sure your ask your designer to use Adobe Illustrator. The reason for this is that the logo or branding in vector form can be blown up to an enormous size or it can be shrunk down to the tinniest size without losing any of the quality.

REQUEST A BRANDING DOCUMENT
A branding document is great to have because it gives you all the information regarding the font that your designer has used, the spacing when it comes to words and lettering, as well as all the colour styles.
Having all this information on hand is going to be essential if you ever need to provide it to someone who requires that info, such as a website designer. Or if you wanted to use a different graphic designer in future who was using your current logo to create new branding or merchandise perhaps, they might need to know all the info for your current logos and branding.

HIRE THE RIGHT PERSON + GET A CONTRACT
There are thousands of graphic designers out there, all of which have different styles, so finding the right designer for you is so important. You don't want to work with a designer who is a modernest when you're looking for someone who creates beautiful illustrations for branding. Make sure you check their portfolio to see their past work and to see if it fits in with the style of your business.
Don't be afraid to ask for references from previous clients. Hiring a graphic designer can cost a lot of money if they're creating a whole host of branding for your business, so don't hesitate to ask for references and feedback from their past work.
Lastly, get a contract. It's so important that you know exactly what to expect, what you're going to be receiving from your designer and what's included (or not included) in the price you're paying. Getting it in writing as a clear contract will help avoid any nasty surprises.
the

challenge
Take a few minutes today to think about your branding. Does it say what you want it to say and represent your business in the perfect way? If yes, then that's amazing. If you're unsure, why not start pulling together ideas from the internet and Pinterest as to how you'd want your branding to be, and come and share your findings with us in the comments below!
the

giveaway
Comment to WIN a FREE 6 Month Members' Club Pass 
One lucky winner will win a FREE 6 Month FEA Membership! This offer is open to current members too :)
To Be Entered to Win: How would you describe your business branding? Have you used a graphic designer before or are you looking for a designer to help bring your dream branding to life? Write a comment below to get involved.
See you next week for another 10-Minute Masterclass!
Carrie xx
P.S. If you're not already a subscriber, sign up below so you don't miss next week's Masterclass!