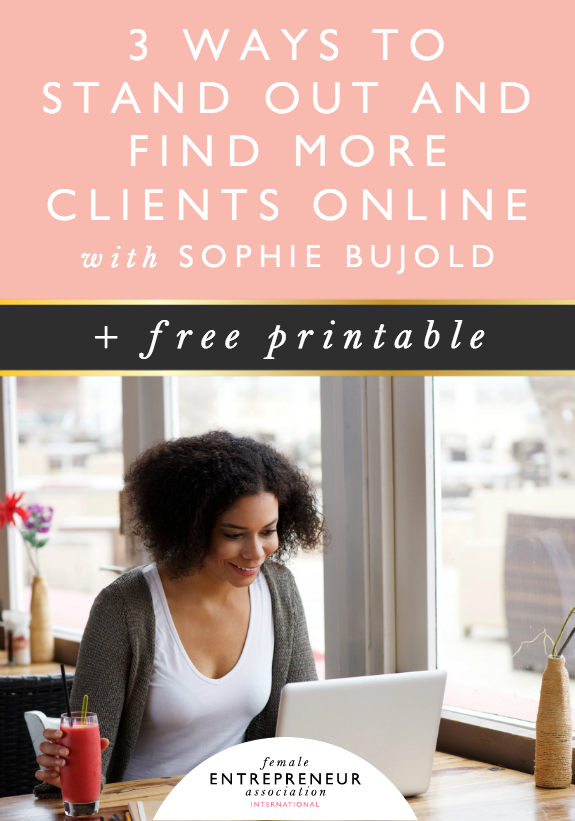 In this week's 10 Minute Masterclass we're talking about a topic which I think all of us love… how to stand out and find more clients online.
We all want to grow our businesses, otherwise we wouldn't be doing what we're doing! However, when it comes to growing our businesses online it can be somewhat confusing and easy to get distracted and led off track by shiny object syndrome!!
You can end up driving yourself crazy trying to juggle everything, which is why it's so important to get clear on where YOU want to focus your efforts and to learn more about your audience!
So, to help you with this, we have a brilliant masterclass for you, where we were joined by the amazing Sophie Bujold and she shared 3 things that you can do to stand out more online and find more clients!
In this masterclass Sophie shares:
Why it's important to find out what your strengths are
The need to know who your audience are
The importance of listening & looking for feedback from your audience
+ lots more!
As always, we have a worksheet to go along with the masterclass to help you take action on it all. Download it here >>

(If you're already a subscriber then we've sent this worksheet to you already.)
Now, check out the video below and learn the amazing tips Sophie shares to help create an amazing business…
GIVEAWAY: Make sure you leave a comment below and share with us what your audience are saying about you and be in with a chance of winning a 6 month pass to the Members' Club!
about

Sophie
Sophie Bujold is the founder of Cliqueworthy, a digital communication consultancy that specialises in attracting clients through authentic online connections. 
Get Sophie's free guide here >>
the

Breakdown
Here's a breakdown of what Sophie shared in the video above…

GET REAL WITH YOURSELF
Start focussing on what you love to do and what you're strong at. It's easy to get carried away with trying to do all the things experts are telling you to do without really considering where your strengths lie & what you really enjoy! If you're not passionate about what you do and how you do it, people can usually recognise a lack in authenticity. They'll be able to see that it's not something you're comfortable with and that you're struggling, and this can really interfere with your message.
Try asking yourself the following questions: Am I excited about this new idea? Is it a good fit with everything else I'm doing? Can I handle the extra workload? 

IT'S NOT ALL ABOUT YOU
What you're producing and communicating online is about your client. You need to approach your clients in a way that they are going to respond well to. You need to use the right environment, language & topics that they want to be communicating and participating in. What other companies around you are talking to the clients that you want to attract, how are they doing it, what are they doing? It's great to observe other businesses that are working with people who you want to attract, and make notes on their approach.
Once you've done your research you're going to be in a better position to then think about what fits with you in your niche and your business. What kind of topics fit with you that you can easily and comfortably start talking about, that are related to what you want to sell and that approach people in a way that will relate to their interests.

LEARN TO LISTEN
Start paying attention to what's happening around you, as your clients will be giving you valuable feedback in all areas of your work. Pay attention to all feedback, whether it's positive or negative, see what they're saying, the words they use and what you might think the underlying message is.
Looking at feedback, reviews and comments from your audience can really help you learn more about your clients and what they want. Whether it's your website, social media or emails, it's important to pay attention to what they're saying.
the

challenge
Take the time to listen to what your audience are saying. If you have your own business, what are your clients saying about you? If you don't have somewhere for them to leave feedback, why not ask them directly for feedback? Or if you haven't started a business yet, what are others saying about people in a similar industry to you?
the

giveaway
Comment to WIN a FREE 6 Month Members' Club Pass 
One lucky winner will win a FREE 6 Month FEA Membership! This offer is open to current members too :)
To Be Entered to Win: Leave a comment below sharing what your best strengths are!
See you next week for another 10-Minute Masterclass!
Carrie xx
P.S. If you're not already a subscriber, sign up below so you don't miss next week's Masterclass!