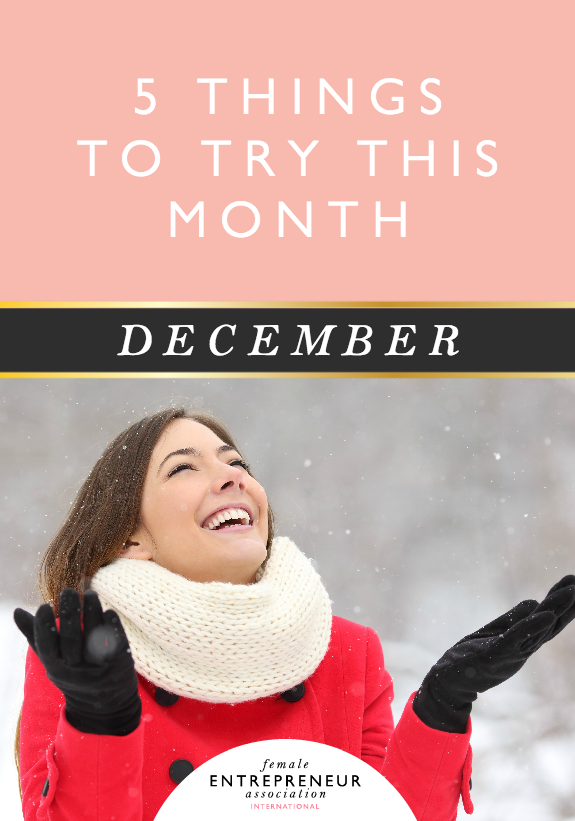 The amazing entrepreneurs over in the Members' Club are always achieving incredible things and sharing their insights in the group, so we thought we'd share their ideas with you! Here are their tips for 5 things to try this month…

EASE FINANCIAL ANXIETY
Listening to the money meditation provided in the FEA money masterclass when you're creating services and products. Sometimes I have these days when I wake up anxious about money but the meditation helps me keep grounded and create meaningful, quality services. Instead of creating from fear, I create from a place of clarity.
Shannon DePalma // Shannon DePalma Coaching

VISUALISE HOW YOU WANT YOUR DAY TO GO
Before you start your day, visualize how you want your day to go, from when you first wake up to before you get out of bed. Imagine a stream of creativity flowing into you; you easily crank out that blog post, give great service to clients, negotiate challenging situations with grace, ease, and confidence like a powerful Boss Goddess! The power of suggestion using visualizations is a great way to program your mind for success!
Venus Aviv // Venus Aviv | Spiritual Coach + Energy Healer

GET TO A REAL LIFE EVENT
Get to a REAL LIFE event! It's great sharing success and masterminding online and through social media but there is something about meeting people in person and talking about your business. Whether it is a personal development event, networking or mastermind session (even if it isn't specific to your field), I've found that talking to people has lit a new fire and passion about my business!
Kelly Grothe // Kelly Grothe Fitness & Nutrtion

FOCUS ON ONE OR TWO SOCIAL MEDIA PLATFORMS
Pick one or two social media platform(s) of your choice or where you know your target client is spending their time and 'work' those platforms – create your content, images, videos – spend a bit of time figuring out what they want and post it either every day or every other day. BUT do not over spend your time – maybe an hour a day – this way you don't frustrate or overwhelm yourself.
Leone Martin // Leone Martin

TAKE THE TIME TO DEFINE THE VISION
Take the time to define the Vision, not just for your business, but all other areas of life too, because some other areas might be getting neglected while you are building your business and I think true freedom lies in feeling fulfilled. When we envision a holistic success and not just one part of our life, that's our only chance to feeling fulfilled not just when we get to the top but all along the way. Now that's freedom.
Neha Awasthi // Neha Awasthi – Reverent Freedom-seeking Weight Loss Mentor