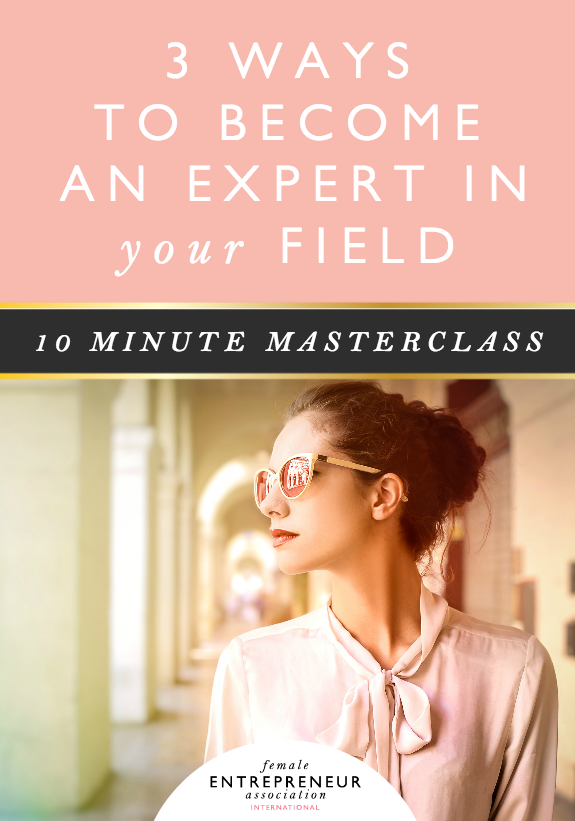 When I first started the Female Entrepreneur Association I had no network, no contacts and no idea how I was going to get what I was creating out there… a place most entrepreneurs find themselves in at some point!
So, how do you get people to take notice? How do you create authority and credibility and become someone people listen to?
The answer… by taking a few steps, and in this week's 10-Minute Masterclass the lovely Louise Presley-Turner, founder of The Game of Life, shared her 3 steps with us!
In this masterclass she shares:
How getting known locally can have a big impact.
What she did in order to get Hay House to ask her to write a book.
The most effective way to build strategic alliances with other experts.
Enjoy…

"As one of the UK's leading experts in Personal Growth, I have spent the last 10 years sharing my wisdom with women all over the world.
As the author of the books 'Finding a Future That Fits' and 'Mindset Mastery' – my life-changing techniques have secured me the position as one of the UK's most successful coaches.
As a prolific writer and speaker, I have been featured on the BBC, in many of the top national magazines such as Cosmopolitan, Glamour and Natural Health and newspapers such as The Guardian and The Telegraph. My unique style of coaching has produced some amazing results, helping people to define their goals and turn their lives around with amazing success."


GETTING YOUR NAME IN THE PAPERS
To have a successful business, you need to have a strong platform.  Spending time reaching out to your local papers is a great way to get your business featured.  Once you establish your profile locally, it will help build momentum and make it a natural progression to reach out and be featured in  bigger publications.

TALKING ON STAGE
Getting on stage can be terrifying, but if you feel called to share your message, public speaking is a great way to reach more people, build your list, position yourself as the expert and it gives you more opportunities to connect with the right people who can help propel your business to the next level.

BUILDING STRATEGIC ALLIANCES
Connecting with people who serve a similar audience and forming mutual relationships can leverage you as the expert and help you grow your audience and business.  Making the right approach by offering to help the person you are seeking to create an alliance will go much further than asking them to help you so make sure you are offering to help them in some way  before asking for anything in return.
:: SPECIAL GIVEAWAY: Comment to WIN a FREE 6 Month Members' Club Pass ::
We are so excited about opening up the Members' Club in the coming weeks that we have decided to do a random drawing for a FREE 6 Month FEA Membership each week until we open the doors! This offer is open to current members too! :)
To Be Entered to Win: Leave a comment below sharing which of these tips you found most helpful and what you will try out.
Winners will be drawn every Friday!
See you next week for another 10-Minute Masterclass!
Carrie xx
P.S. If you're not already a subscriber, sign up below so you don't miss next week's Masterclass!