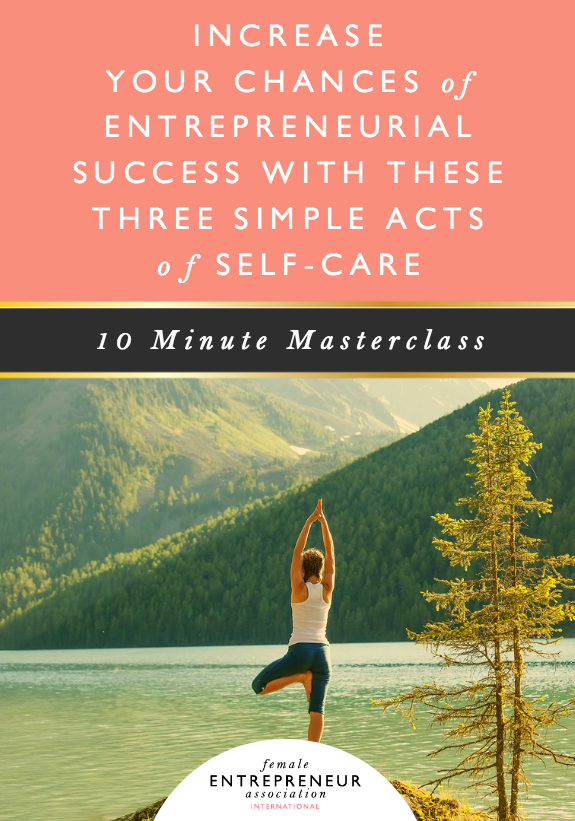 As entrepreneurs, we usually have so much happening and so many to-do lists going that the idea of taking time out to exercise seems unfathomable.  The truth is, when you allow yourself to prioritise what is really important and put yourself first, it makes a huge impact in your business and life.
So in this week's masterclass the amazing Meg Worden shares 3 simple acts of self care that can increase your chances of entrepreneurial success :-)
In this masterclass you will learn:
How making your health the top priority can change everything about your entrepreneurial journey
How taking control of your health allows you to take control of your business too
Why making time for your self care is a key piece to your success in business
+ Leave a comment below to win a FREE 6 Month Membership to the FEA Members' Club… find out more below :)

Meg Worden is a writer, speaker and health coach advocating for love, art, hilarity, and justice.


EXERCISE
Prioritizing your day to include regular exercise not only circulates blood, it helps to circulate ideas and keeps your creativity flowing.  Giving your body the structural integrity of an exercise practice will translate to the structural integrity of your business as well.

HYDRATE
Our bodies are composed of over 50% water.  When it comes to keeping your mind clear, skin fresh, your body pain free and motivated to self care, nothing is better than drinking water.  Aim to drink a glass of water first thing in the morning, a glass before every cup of coffee and a water bottle with you whenever possible.

MIND YOUR STORY
Check out the what, why, how, and where of what you are doing with your self care. Just because you used to work out 5 days a week before you started your business (back when you still had "free time" ;-)  does not mean that is the benchmark for improving your health now.  Simply commit to one small thing each day and allow it to grow.
I hope you've enjoyed this 10 minute Masterclass don't forget to leave a comment sharing what you're going to do to prioritize your health to be entered in the giveaway!
:: SPECIAL GIVEAWAY: Comment to WIN a FREE 6 Month Members' Club Pass ::
We are so excited about opening up the Members' Club in the coming weeks that we have decided to do a random drawing for a FREE 6 Month FEA Membership each week until we open the doors! This offer is open to current members too! :)
To Be Entered to Win: Leave a comment below sharing what you're going to do to prioritize your health.  Winners will be drawn every Friday!
See you next week!
Carrie xx
P.S. If you're not already a subscriber, sign up below so you don't miss next week's 10 Minute Masterclass!