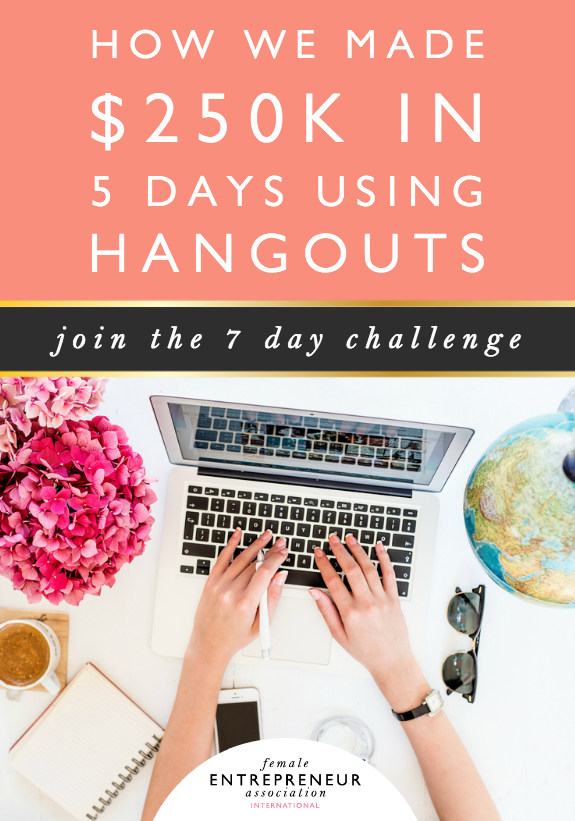 One of the things we're all trying to do as we grow our businesses, is expand our reach.
I'm often trying out new marketing strategies to see whether they work for my business, and something that got me really excited recently is using Google Hangouts.
I'd heard about how Yifat Cohen, the G+ Go To Gal, had made $250k in 10 days going a 'hangathon'. So in this week's 10 Minute Masterclass she joined me to share how she did it and how you can use Hangouts to grow your business too.
In this masterclass you will learn:
Why it's important to stop hiding behind your presentations and move away from faceless interactions
How you can lower your marketing costs by boosting your engagement
How one Google Hangout can be repurposed and used over multiple social channels
+ Leave a comment below to win a FREE 6 Month Membership to the FEA Members' Club… find out more below :)

+ Download the free Printable we've created to go along with this masterclass to help you put the tips into action >> 
If you're already on our mailing list, we've already sent this printable to you, so check your inbox :-) 

Yifat Cohen has become the genius of Hangout technology, by pushing its capabilities beyond its limits she has secured herself an expert role in this growing platform. A Google Plus expert, founder of G+GoToGal, and YCN (Yifat Cohen Network) she ranks as one of the leading Google Plus, Social Media, and Mobile Marketing experts. Business Rockstars, DocStoc, DataMation, The Rise to the Top, Diamonds in Your Backyard and Entrepreneur on Fire, are just a few of the mediums that have featured this Hangout savant. The Genius behind Yifat is that she is one of the very few non-Google employees who have been invited by Google to present as an expert one of their products (The Hangout) at a Google office. Her expertise is such, that she is often flown globally to countries such as Mexico, Brazil, and Israel to speak on behalf of Google. Yifat is a member of the Beta team, testing Hangout features before they're available to the public.
Download Yifat's guide about how she made $250k in 10 days using Google Hangouts & Gamification >>
Yifat's Youtube Channel Here >>


THE MIND SHIFT – FROM MARKETING TO ENGAGEMENT
Move away from faceless interactions. Stop hiding behind presentations and open p up to the idea of engaging with people.

BUILDING RELATIONSHIPS TAKES TIME, BUT IT'S WORTH IT
Creating trust and connection is KEY. There are no shortcuts. It takes time, but offering incredible value without pushing sales is a great way to build trust and nurture relationships.

HANGOUTS ARE COOL, BUT YOU NEED AN ENGAGED AUDIENCE FIRST
Gamify!  Creating an environment of giving pure value and adding the element of fun and excitement with gamification will go a long way for boosting engagement with your audience.
I hope this masterclass has been helpful for you!  We challenge you to host a live Google Hangout in the next 7 days!  Share your plans to be entered in our giveaway!
:: SPECIAL DOUBLE GIVEAWAY: Comment to WIN a FREE 6 Month Members' Club Pass or Yifat Cohen's 6 Ways to Monetize Google Hangouts ::
We are so excited about opening up the Members' Club in the coming weeks that we have decided to do a random drawing for a FREE 6 Month FEA Membership each week until we open the doors! This offer is open to current members too! :)
To Be Entered to Win: Leave a comment below sharing what topic you're going to do a Google Hangout on or how your latest Google Hangout went and any questions you have!
Winners will be drawn every Friday!
See you next week!
Carrie xx
P.S. If you're not already a subscriber, sign up below so you don't miss next week's 10 Minute Masterclass!