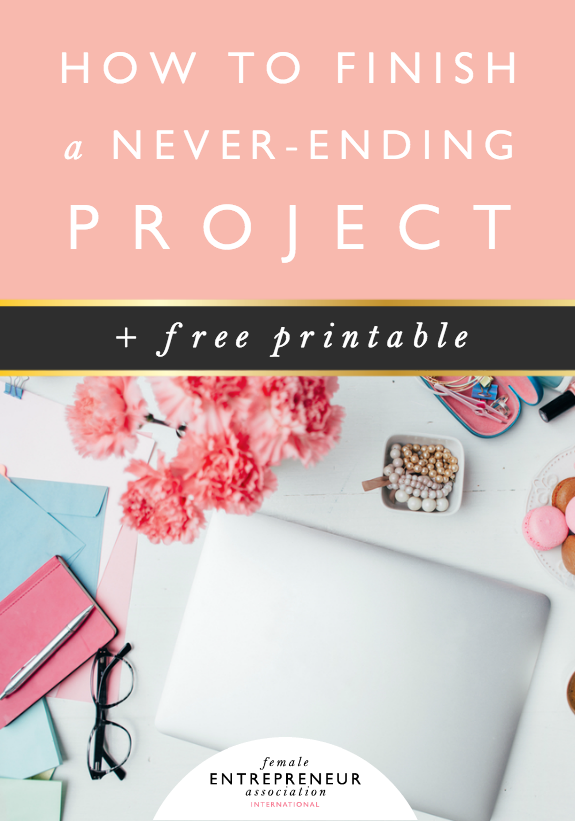 Ok, so I have a question for you…
Have you ever been working on a goal or project and felt like it was going on foreverrrrrrr, so you started to question whether you'd ever even get there?
I most definitely have experienced the never-ending project before and it's soooo annoying!
I think most of us entrepreneurs have experienced this, because we have so many ideas and projects we're working on.
If you hear me on this, then you're going to LOVE this week's 10-Minute Masterclass :)
I was joined by the lovely Jennifer Wilson of Simple Scrapper, who shared 4 steps to Finish your Never Ending Projects.
In this masterclass you will learn:
How to sharpen your focus so you can actually break your project down into bite size pieces.
How to prioritize your time in order to accomplish your other necessary daily business tasks & still making progress with your project.
How to simplify your project in order to streamline & relieve massive overwhelm.
+ Download the free worksheet we've created to go along with this masterclass to help you put the tips into action >> 


Jennifer Wilson is an educator dedicated to helping women simplify memory keeping. She is founder of the Simple Scrapper community and editor of the Everyday Storyteller idea book series.
Free Project Planning Worksheet Here>>
Jennifer's Website Here>>


FOCUS
Taking on too much is a sure-fire way to get nothing accomplished. Devote your energy to one big thing at a time.

MAP IT OUT
Eliminate project overwhelm by translating your ideas and plans to paper. You'll feel more in control and clear on your next step.

SIMPLIFY
With a clear idea of what you want to achieve and how to get there, look for opportunities to streamline and make it even easier.

STAY POSITIVE
You started this project for a reason. Use that meaning or purpose to maintain an upbeat, can-do attitude.
 I know these things will really help you to get your projects finished, sometimes when things drag on or we feel stuck and overwhelmed, we just need to take a step back and re-focus, map things out, keep it simple and get a dose of positivity about it all :)
Leave a comment below and let us know one thing you are going to do to move your project along! 
See you next week!
Carrie xx
P.S. next week we're going to be joined by Lacy Boggs and talking all about Better Business Blogs… sign up below so you don't miss it!