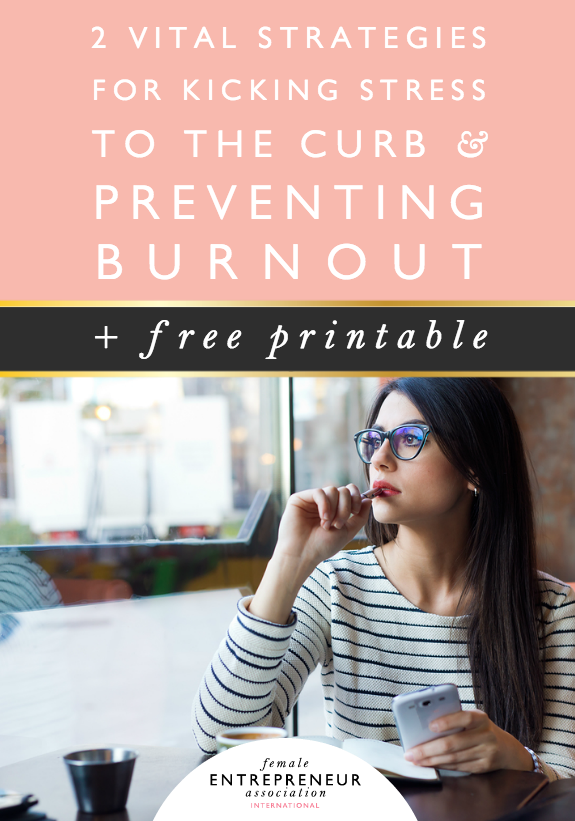 If you've been on the verge of burnout when it comes to your business or you feel like you've got so many plates spinning all at once that you don't know where to focus first, this 10 minute Masterclass is going to be just what you need. I was joined by speaker & coach, Sheila Shuster who shares 2 fast and actionable things you can do to slow down and stay in the present moment.
In this masterclass you will learn:
Why managing your stress is an essential part of achieving your goals
How to get more done without multitasking
Two simple things you can do to slow down and stay in the present moment 
+ Leave a comment below to win a FREE 6 Month Membership to the FEA Members' Club… find out more below :)

+ Download the free printable we've created to go along with this masterclass to help you put the tips into action >> 
(If you're already signed up to our mailing list, then we've already sent this downloadable to you via email, so you don't have to sign up again.)

Sheila Shuster began her career in biotechnology and healthcare education. A series of losses and an enlightening experience with her dying father catapulted her in a new direction in 2009. She is now a professional speaker and coach, teaching skills that cultivate a natural calm and help people to discover their capacity to acclimate to change. Sheila's passion is to share what she has discovered in herself – that looking at life with relaxed attention changes what you see. She enjoys hiking, music, cooking and travel. Sheila currently lives in Northeastern Pennsylvania
Sheila's Website >>


SLOW DOWN
Literally – slow down everything you are doing. Slow down your speech, your walking pace, your actions, everything you do.  Slowing down amplifies the negative noise in your mind.  Once you can hear this noise clearly, you will start to see how irrational it is and can work on changing the pattern.

STAY HERE
It's important to keep your mind focused on the present moment and not racing miles ahead.  Try using a visual cue like our printable or a post-it as a reminder.  When you give THIS moment the attention it deserves you get more out of it.

CHALLENGE
Challenge yourself to 7 days of making the conscious choice to slow down & "stay here".
I hope you enjoyed this masterclass and will join me in this 7 day challenge in staying in the present moment.  I know and believe health and peace of mind are essential keys to running and maintaining a successful business.
:: SPECIAL GIVEAWAY: Like & Comment to WIN a FREE 6 Month Members' Club Pass ::
We are so excited about opening up the Members' Club in the coming weeks that we have decided to do a random drawing for a FREE 6 Month FEA Membership each week until we open the doors! This offer is open to current members too! :)
To Be Entered to Win: Like this post and leave a comment below sharing what helps keep you in the present moment and if you plan to join us in the 7 day challenge!
Winners will be drawn every Friday!
See you next week!
Carrie xx
P.S. next week we're going to be joined by Yifat Cohen who will be sharing about using Google Hangouts to grow your business so sign up below so you don't miss it!