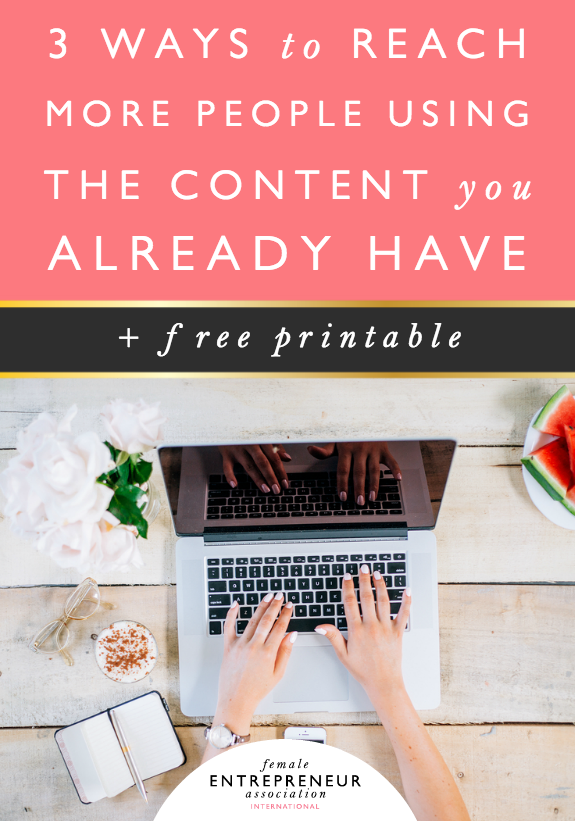 If you write a blog or create content for your business then you're going to love this week's 10-Minute Masterclass.
I was joined by the lovely Brigitte Lyons, founder of the boutique PR agency B, and she shared 3 ways you can repurpose your existing content in clever ways, to help you expand your reach.
Here's what you'll learn:
How to actually guest blog for big websites, like Entrepreneur.
How to know which blog posts you should repurpose.
A great way for repurposing your content that will help you to grow your list too.
Get a pen and a piece of paper and get ready to feel inspired and empowered to build an even more successful business!
+ Download the free worksheet we've created to go along with this masterclass to help you put the tips into action >>


Brigitte Lyons is the founder of B, a boutique PR agency that specializes in storytelling for the social era. She works with trendsetting brands and forward-thinking businesses to craft storylines that hook the media and captivate customers.
Free Audio Guide & Workbook: Publicity Tool for Thought Leaders and Cause Marketers >>


GUEST POSTS & CONTRIBUTIONS
Start by finding the online contributions editor.  Next, compose an email with your ideas and an explanation of why they are relevant to that audience.  It's that simple.  Content doesn't have to be brand new to pitch to an online publication.  Repurpose your old blog posts that are most aligned with your brand and what you want to be known for.

PODCASTS
Remix an old blog post into a podcast. Changing the format and delivery of the content is a great way to access a different audience.

WEBINARS
Expand your reach even further by repurposing a blog post into an webinar.  Choose one of your posts that received the most traffic and use it as an outline for a webinar.
~
I can't stress enough how valuable it can be repurposing old blog posts and content you've created… don't let it sit in the archives gathering dust – so are you going to start repurposing your content? Leave a comment below and let us know!

See you next week for more inspiration, tips & tricks… we're going to be showing you how you can finish a never-ended project, so keep a look out.
Carrie xx
If you're not a member yet, make sure you sign up below and we'll send you the masterclass along with any goodies that go along with it >>