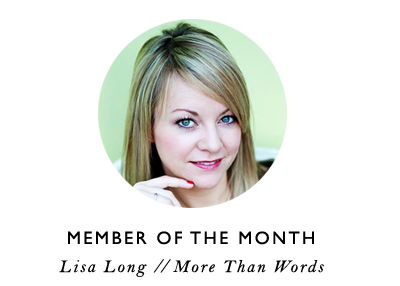 Our Member of the Month is Lisa Long, the founder of More Than Words, a typographic art boutique.
Lisa launched More Than Words in 2010 after taking a career break to raise her two young boys. Her lifetime love of interiors, graphic design and typography, combined with a search to find a piece of original artwork for her own home, led her to follow her creative passion and set up her typographic art boutique, More Than Words. "I was struggling to find artwork that had it all – contemporary, premium quality yet reasonably priced, a great talking point and something that was unique and meaningful. So, after careful research to understand how I could produce my very own piece of high quality artwork, I created what is now the original 'Memories Canvas' to hang on our wall. A simple collection of our favourite memories as a piece of 'word art' on a stunning canvas and in custom colours to match the room."

Lisa then had several requests from friends and family to design something for them and from there More Than Words was born. Lisa, and her small team of talented designers in Berkshire, UK, have since created an award-winning global brand, commissioned by thousands of customers around the world. High profile clients include Dannii Minogue, journalist India Knight, comedian Michael McIntyre, and screenwriter/film director Richard Curtis, and More Than Words artwork decorates the walls of well-known corporate clients such as Selfridges and Amazon.co.uk. Lisa beat off stiff competition from companies such as Microsoft and Avon in the UK.COM business awards. She was also selected as a finalist for a 'start-up success' award by notonthehighstreet.com, shortlisted by luxury online boutique Sheerluxe 'for best gifts website', and a finalist in the 'Mumpreneur Awards' for 'most unique product. More Than Words typographic designs have also featured on television programmes Cowboy Builders and 60 Minute Makeover, and in top international home, wedding and children's magazines and blogs.
Lisa is an absolute inspiration and she demonstrates what's possible! Here's more from Lisa on how she did it…
WHAT WERE THE FIRST FEW STEPS YOU TOOK TO SET UP YOUR BUSINESS?
The first step was identifying my target audience and which sales methods I was going to use to reach them. I was very certain that I wanted to create a premium brand so the next step was sourcing top quality products from high-end suppliers.  After that it was all about product samples and marketing!
HOW DID YOU MANAGE TO GET SUCH HIGH PROFILE CLIENTS?
I've had a lot of success through Twitter.  This is how Dannii Minogue picked up my bespoke 'children's' artwork.  I've also been lucky enough to have my work featured by all of the UK's interiors magazines, and it has also been screened on several TV makeover programmes, so this has really increased our profile. Several other high profile customers simply found us through Google (I've worked very hard on the SEO side and creating a professional website!) and our Corporate customers such as Selfridges and Amazon found us simply through our quality reputation.
WHAT ARE YOUR TOP TIPS FOR OTHER ENTREPRENEURS?
Be original (I truly believe it's better to fail in originality than succeed in imitation), maintain a work-life balance, and dream big!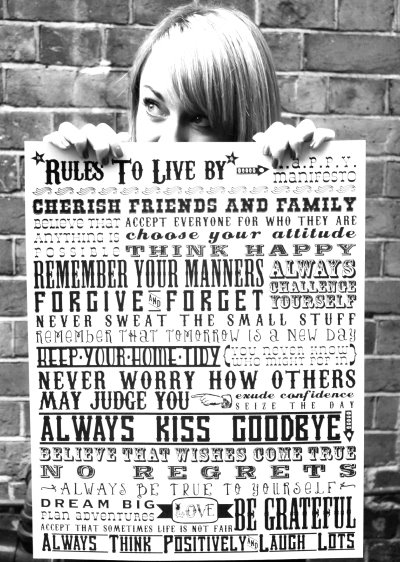 SENTENCES TO FINISH…
When I face a big challenge I…
Talk about it with my husband. Then roll up my sleeves and crack on with it.
I love building my business because…
It makes me so proud to know that More Than Words artwork hangs on walls around the world.  I just love what I do and would just love More Than Word to grow and growl.
The hardest part of building my business has been…
Juggling a very quickly growing business around two very young children. It was very tough, with a lot of random hours. (they are both at school now luckily!).
If I could go back in time to when I was 20 I would tell myself…
Do what you love…if you're 100% passionate about something, you will succeed.
I believe…
That everything happens for a reason.
In my spare time I…
Work out.  Healthy body, healthy mind.
My favourite quote is…
Feel the fear and do it anyway!
My favourite business book is…
Michael Gerber's The E-Myth Revisited
My favourite business tool or resource is…
Twitter and facebook.  I'm a huge social media fan.  It's free!