Over the weekend I was at an event where Brendon Burchard was speaking, I was excited to hear what he had to say, because I love what he does. As I was sat there in the audience, he posed 3 questions – 3 questions which changed his life and I'm pretty sure that as he told us the questions they changed the lives of people in the audience, because they're powerful…
He said that at some point we're all going to die and the questions we're going to be asking ourselves in that moment are: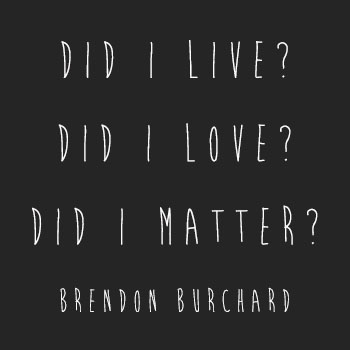 If you asked yourself those questions now, what would your a
nswers be? Could you live more? Could you love more? Could you matter more?
Every day, check in with yourself and make sure you're living your life the best you can, so you know that when your time comes, you'll be proud and happy of your answers to those questions.
Have an inspired week!
Carrie x