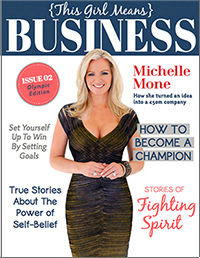 This Girl Means Business: Issue 2
In this issue…
We interviewed the amazing Michelle Mone! Michelle started her company with nothing but an idea and she's built it into a company worth £50 million. She tells us the one key thing that will ensure your success and how she got started with nothing.
How to get more clarity: ever feel like you're walking around in a confused daze? Learn the key things you need to do to get clarity and set clear goals for yourself.
What you need to do to in order to be a champion in business.
There's much more too. Read this issue here.