Earlier this week, Carrie, the founder of this fabulous website, had a mild packing panic when it came to deciding what to take on her business trip to London. After our conversation about the little panic, I got to thinking about the ten essential items that us girls should keep in our wardrobes to avoid a workwear panic.
So, whether it's a business trip or a meeting with clients, check out the below guide to ensure you always have the perfect outfit to hand… this one's for you Carrie ;) xx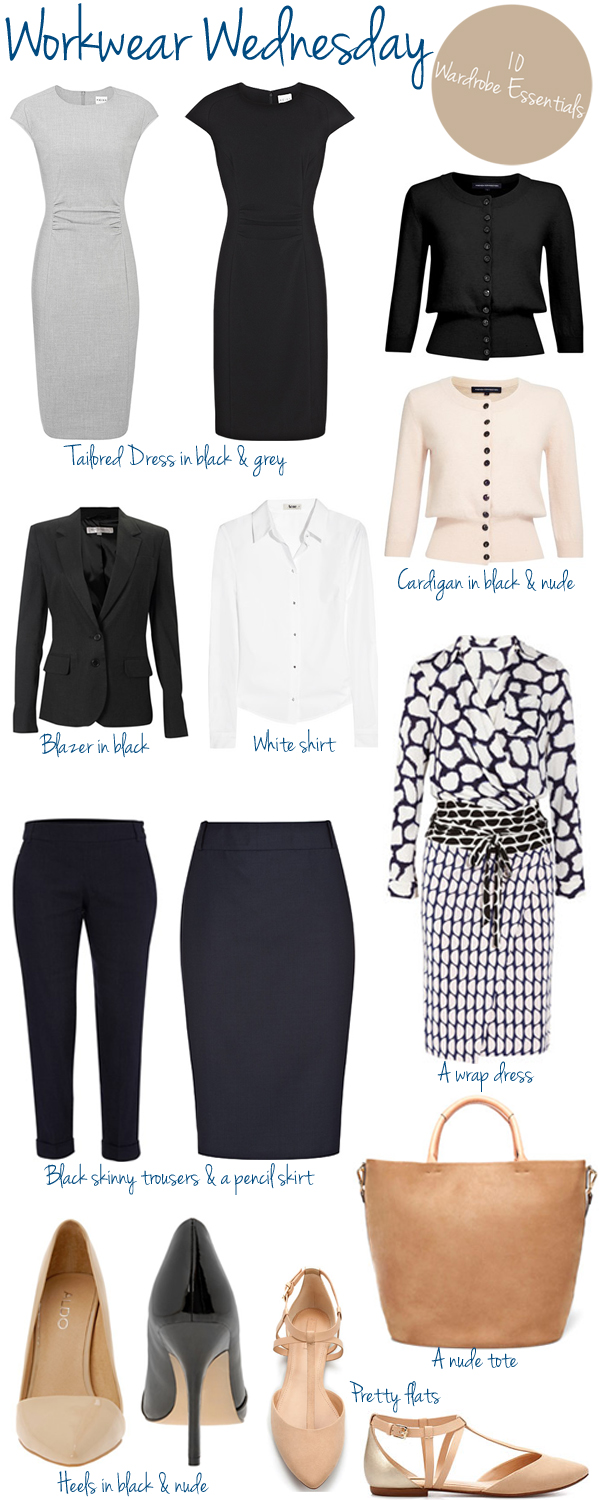 1. Dresses – Reiss | 2. Cardigans – French Connection | 3. Blazer – French Connection | 4. White Shirt – ACNE | 5. Pencil Skirt – Reiss | 6. Skinny Black Trousers – French Connection | 7. Wrap Dress – Diane von Furstenberg | 8. Nude Tote – Zara | 9. Court Heels – Aldo | 10. Pumps – Zara USA
A tailored dress in black and grey (or nude) will always look chic and smart.
A good quality cardigan in black & nude – these colours will pair well with any outfit and are fab for cooler days or air-conditioned rooms.
A black blazer is an absolute must! Even if you just throw this on with a pair of skinny jeans, you will instantly look like you mean business. If you don't have a well-fitting black blazer, you should put this on the top of your shopping list now! :)
A good quality white shirt. A true classic that always looks fabulous, especially when paired with…
A pencil skirt.
A pair of skinny black trousers will look smart, on-trend and are less business-y than a trouser suit. They will also look cute with both heels or pumps.
A wrap dress (particularly a Diane von Furstenberg one) will always be a great addition to your wardrobe. They are easy and comfortable to wear, will never date and will easily take you from a business meeting to after work drinks.
A large nude tote will pair perfectly with any outfit colour combination you choose. Nude really is the perfect colour if you just want one work bag.
Court shoes are the heels of choice here and a pair in black and nude will ensure you have a pair of heels to match any outfit.
Last but not least, a cute pair of pumps are perfect for more relaxed meetings and are essential if you have to walk any distance during the day.
So, there you have it, my top ten essential items for your workwear wardrobe.
Until next week…

Blog | Twitter | LinkedIn | Pinterest