I don't know about you, but when it comes to outfits for work, I sometimes struggle for inspiration.
Now, I'm quite lucky — I don't have a dress code for work and I never have to wear a suit; but when I'm standing in front of my wardrobe first thing in the morning, pulling a look together, that I actually like, takes more effort than I'd like.
I have toyed with the idea of planning my outfits for the week on a Sunday, or even the night before each work day but this never lasts. I'm just not that girl. I am never that organised. I wish I was, but I'm not.
So, in an attempt to inspire myself and you, I am going to put together a weekly outfit that will consist of current high-street and high-end items. I like to mix it up a bit. I'll also focus on a specific industry each week because we all know that you social media girls do not dress the same as the legal ladies.
This week, we're kicking off with Marketing Girls. I consider myself one of these and I would definitely wear this outfit for work…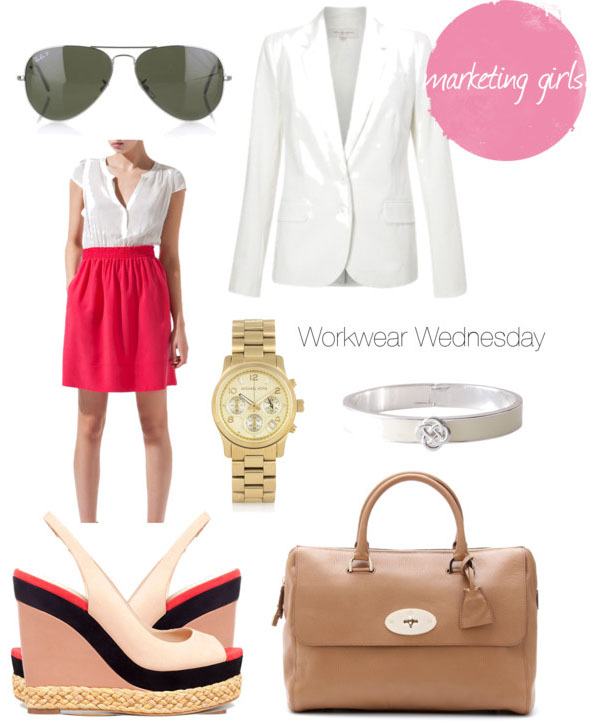 Sunglasses | Dress | Blazer | Watch | Bracelet | Wedges | Bag
I love this cute two-in-one dress from Zara and I think it would pair beautifully with these gorgeous wedges (also from Zara). Wedges are definitely my go-to for heels. They give the height that we want but are far more comfortable to walk around in all day. And they look cute! What more could we want?!
A white blazer is a fantastic staple for any wardrobe. It instantly pulls an outfit together and can add a smart touch to an otherwise casual outfit. Perfect for the cooler Spring/Summer days ahead.
Jewellery is a personal preference but I think it can add something special to an, otherwise plain, outfit. This Michael Kors watch has been on my lust list for a while now and if you haven't yet checked out Stella & Dot, I urge you to do so. Quickly! This is one of their many beautiful bracelets and the best thing is, their pieces don't break the bank, enabling you to build up your accessories collection :)
When it comes to bags, whether is't work or play, you cannot fail with a Mulberry and I'm absolutely loving their new Del Ray… This would be perfect to use as a work bag — it will fit everything you need for the day and will keep you looking seriously stylish at the same time.
And last but not least, don't forget your sunglasses! According to the weather man, you'll be needing them this week :)
Until next time…

Blog | Twitter | Pinterest | Tumblr