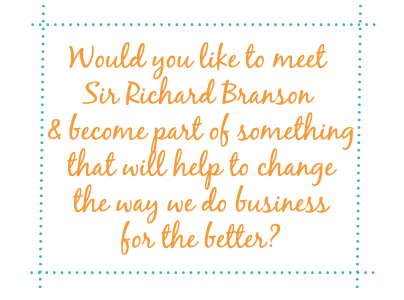 Hands up, who would like to meet Sir Richard Branson? I'm guessing your hand is up right now, because quite frankly what entrepreneur wouldn't want to meet him??
Not only could you be in with a chance of meeting Sir Richard Branson, you could spend several days with him in South Africa.
I'll let the man himself tell you more…
The competition…
Sir Richard Branson has launched an international competition offering people with great ideas about how to "screw business as usual" the chance to win a money-can't-buy connection trip to South Africa with his non-profit foundation, Virgin Unite. The contest, which is open unitl April 2012 comes as part of Sir Richard and Virgin Unite's movement "Screw Business As Usual", which encourages business to become a force for good, putting people, planet and profit at the core of what they do.
When describing the concept behind Screw Business As Usual, Sir Richard said: "We've got a shot at really pulling together to turn upside down the way we approach the challenges we are facing in the world and look at them in a brand new entrepreneurial way. Never has there been a more exciting time for all of us to explore this great next frontier where the boundaries between work and purpose are merging into one, where doing good, really is good for business."
As part of the prize, the winner will get to meet frontline leaders who are making a difference, share ideas with young entrepreneurs at the Branson Centre of Entrepreneurship, South Africa and then get to spend several days with Sir Richard and the rest of the group, experiencing the beautiful wildlife of South Africa at Ulusaba, Sir Richard's private game reserve.
Finally, they will have the opportunity to discuss their business ideas with Sir Richard himself and be featured in his next book.
HOW TO ENTER…
Individuals can upload their ideas online at the Virgin Unite website, either as short videos or written pitches. Already hundreds of creative and innovative business concepts are piling up from today's ethical entrepreneurs. An entry can be a story or brief description of a business or social enterprise in action anywhere in the world. An inspiration – in words, thoughts or on film – that shows a new way of creating or transforming a business, or will create a consumer movement that will create demand for better products or services.
WHAT'S THE PRIZE?
Every month, the top five entries on the leader board – those with the most social shares (votes) – will each receive a prize. The top 10 ideas, as voted for by the online community, by 17th April 2012 will be evaluated by an Independent Judging Panel who will select the Grand Prize Winner!
THE FINAL WINNER
The Grand Prize is a money-can't-buy spot on a Virgin Unite Connection Trip with Richard to South Africa in 2012 for the winner of the competition.
Please see case studies here for inspiration:
http://virginunite.screwbusinessasusual.com/casestudies
To submit your ideas, vote, or to find out more about the Screw Business As Usual movement visit:
www.virginunite.com/screwbusinessasusual
About Virgin Unite…
Virgin Unite is the non-profit foundation of the Virgin Group. They unite people to tackle tough social and environmental problems in an entrepreneurial way. Their aim is to help revolutionise the way businesses, governments and the social sector work together – driving business as a force for good. This is based on the belief that this is the only way we can tackle the scale and urgency of the challenges facing the world today. Virgin Unite's overheads are covered by Sir Richard Branson and the Virgin Group, meaning that 100% of additional donations received go direct to the frontline where they are needed most. For more information please visit www.virginunite.com. Follow on Twitter www.twitter.com/virginunite or find on Facebook www.facebook.com/VirginUnite