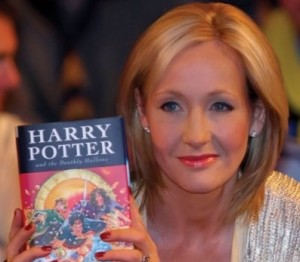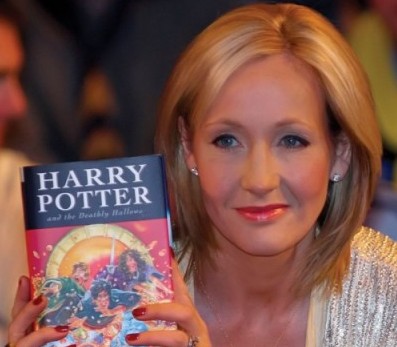 Joanne Kathleen Rowling was born in Chipping Sodbury, England in 1965. She began writing at the age of 6 with a story called 'Rabbit', which she never finished.
In the summer of 1990, on a delayed train from Manchester to London, she came up with the idea of a boy who discovers he is a wizard. But it would be 7 years before the idea became a book.
In that same year her mother died of Multiple Sclerosis and she left for Portugal to teach English, hoping to find a way to deal with her grief.
In October 1992 she married a Portuguese television journalist, Jorge Arantes. But the marriage lasted just eleven months.
In 1993 she left her husband and returned to England, with the one legacy of her failed marriage – a daughter named Jessica.
All of a sudden she found herself fighting poverty and depression. She lived in a tiny flat in Edinburgh and struggled to raise her daughter on a welfare cheque of £70 a week.
Unable to heat her flat, she sat in cafés and took bus rides and wrote 'Harry Potter and the Philosopher's Stone' while her daughter slept in a pram.
The manuscript is said to have been rejected by three British publishers – Penguin, Transworld and HarperCollins.
But Bloomsbury Children's Books did sign her up, reportedly paying £10,000 for the rights to 'Harry Potter and The Philosopher's Stone'.
The Philosopher's Stone was published on 30 June, 1997 and was an instant success.
The book was published under her initials because her publisher feared that boys would be less likely to read the book if they knew it was written by a woman.
At a book fair in Italy later that year, Scholastic Books bought the American rights for $105,000, an unheard of figure for a children's writer with only one book to her name.
It was published in the States in 1998 with the title 'Harry Potter and the Sorcerer's Stone'.
The sequel, 'Harry Potter and the Chamber of Secrets' was published in June of 1999 and later that year, the third book in the series was released, 'Harry Potter and the Prisoner of Azkaban'
By the time her fourth book appeared in 2000 – 'Harry Potter and The Goblet of Fire' – the series had become an international phenomenon: the initial print run for her 4th book was 1.5 million copies in the UK and 3.8 million in the US.
By 2000, JK Rowland had become the highest-earning woman in Britain, with an income of more than £20.5 million.
In 2001 her annual earnings were estimated at over £24m, placing her between Madonna and Paul McCartney in the ranks of high-earning celebrities.
In October 1998 Warner Brothers bought the rights to 'Harry Potter and the Sorcerer's Stone' and its sequel ('Harry Potter and the Chamber Of Secrets'), for $700,000.
With the release of the first Harry Potter film, J.K. Rowling's total earnings are estimated to have exceeded $100 million.
In March 2001 she was awarded an OBE by the Queen, for services to children's literature.
She is one of the most successful women in the world because she made the choice to keep going even when times were tough and she never gave up. She is clearly very talented too, but if she hadn't have chosen to keep going her talent would be completely unknown today.
It goes to show just how important the choices we make are.