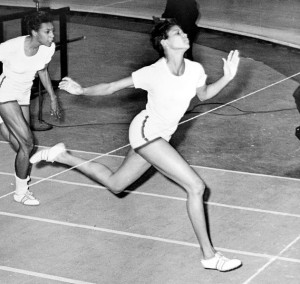 When I first heard the story of Wilma Rudolph it blew me away. I had tingles just from reading it. It's a story I read quite frequently, because it reminds me that just about anything is possible – a philosophy which is sometimes easy to forget or lose faith in.
Wilma Rudolph was born prematurely weighing 4.5Ibs on the 23 June 1940 – she should have died, but she didn't. Not long after she was born she contacted pneumonia – almost certain death for an infant, but against all odds, she survived. Not much later she battled against Scarlet Fever and aged 6 she contracted Polio, which left her in a wheelchair.
Wilma was from a large family and her brothers and sisters played basketball. One day when Wilma was watching them play from her wheelchair she began to cry and told her mother how sad she felt that she would never be able to play with them. Her mother told her that she was a miracle child and that she would walk again, but she had to start believing it.
By age 11 Wilma was out of her wheelchair, by age 12 she was out of her leg brace,  by age 13 she was playing basketball with her brothers and sisters.
Her success didn't end there – age 14 she began to run, age 15 she started to run really fast, aged 16 she was extraordinary.
Four years later, at the age of 20, Wilma Rudolph was the fast woman on the planet. She won three gold medals at the Olympics.
The power of belief is incredible.
Let me leave you with a very fitting quote…
"A woman is like a teabag – you can't tell how strong she is until you put her in hot water." ~ Eleanor Roosevelt